What is a Spread Collar?
Published on July 19, 2022
Collars can be confusing, especially when you put a lot of effort into your style. In this article, we're going to tell you about one of the most popular types – the spread collar.
As experts in the men's clothing industry, we've talked about dress shirts, pants, and even suit accessories. Now we'll tell you all you need to know about the spread collar and how it can best suit you.
Let's begin.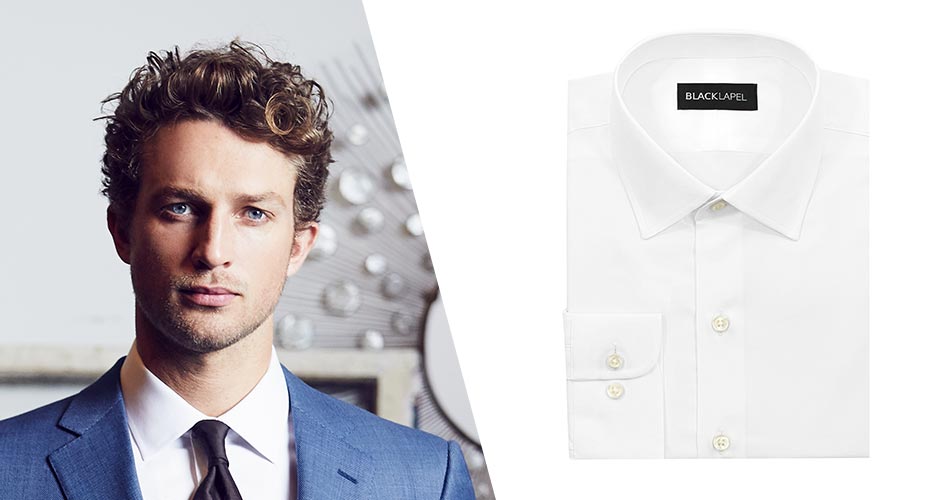 What is a Spread Collar?
A spread collar is a popular dress shirt collar characterized by horizontal, angular 'points' (the tips of the collar leaf) and collar point length. "Spread" refers to the distance between the collar shirt points, typically around 5″ from one point to the other. Spread collar dress shirts (including semi-spread) are the most common of the dress shirt collar types and are your middle-of-the-road, can't-go-wrong option that looks great on most face-shapes and with most styles of tie-knot — but there are some differences between the spread and semi-spread collars.
Spread vs. Semi-Spread Collar: 4 Main Differences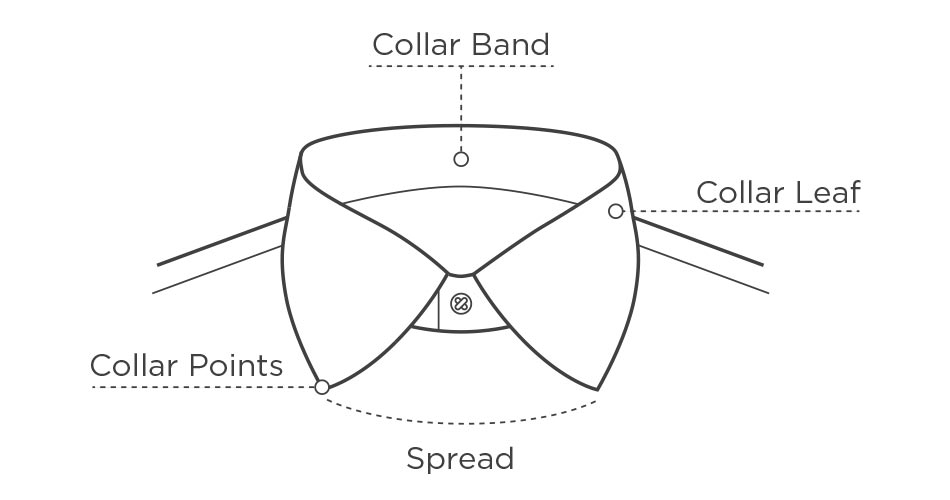 Many get confused at what a spread and semi-spread collar is. They have a lot of similarities which is why it can be hard to tell between the two. But here, we'll discuss what the main differences are, so you can know which one suits you best.
Here are 4 main differences between spread and a semi-spread collar:
#1: Collar Distance
The most notable difference structurally will be the distance between the collar point. With a spread collar dress shirt, the distance between the tips will generally be around 5″, whereas the distance between a semi-spread will be 4″ or less. Semi-spread collar shirts are the "middle-of-the-road" option we mentioned above, where a spread collar shirt gives a more pronounced angular look that you can dress up a little easier.
#2: Face Shapes 
Spread collar dress shirts and semi-spread collars flatter different face shapes, but there is also a crossover between the two. Because of its horizontal characteristics, spread collar dress shirts flatter these face shapes the most:
Oval

Diamond

Oblong

Heart
While semi-spread collars give a wider range of options because of their less dramatic angular features, best shaped for:
Oval

Round

Square

Diamond

Oblong

Heart
#3: Formality
The nature of the two spread collars give themselves shared formalities, but with some minor exceptions. Spread collar dress shirts, due to their wider points from collar tip-to-tip compared to others like a straight collar, narrow collar, button-down collar, and Windsor collar, can enable themselves to be dressed up for more formal occasions. We mean that you can wear a bow-tie with a spread collar without ruining your look. A semi-spread collar lends itself to a more contemporary, day-in-day-out look that matches a necktie with ease and simplicity.
#4: Tie Shapes
The last difference between a wide spread collar and a semi-spread collar dress shirt will be the type of tie-knots that you can wear with them. First, let's look at the wider spread collar dress shirt. Because there is added space in between the two points, you'll want to opt for a tie knot that is thick and is formed with a wider gap that will fill the space nicely – a half or full Windsor knot will get the job done.
For semi-spread shirt collars, you have a wider range of options (again, this is the most middle-ground collar you will see on most dress shirts). With less space to fill than a spread collar, most tie-knots will fit while looking great – anywhere from a four-in-hand knot to a full Windsor will work perfectly.
5 Examples of The Spread Collar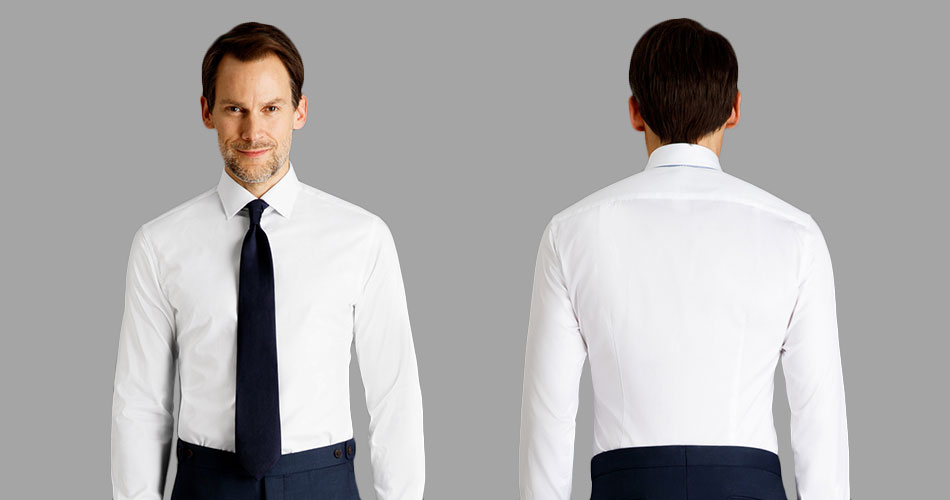 If you still can't imagine how well a spread collar may work for you, we've got examples for you to look at. These are the best spread collar shirts we have that work for any kind of individual.
Example #1: Traveler Shirt in Navy
Our Traveler Shirt in Navy is a great example of a spread collar being used on a highly-functional dress shirt that can be dressed up or down for the occasion. If you want to go for a more casual look, you can easily throw on a dark gray blazer for a casual Friday outfit that is far from unprofessional. Want to dress it up? Opt for a full-Windsor tie knot on a light blue tie to create contrast between the shirt and accessory – then, simply throw on a jacket and dress pants for an easy Monday through Friday getup.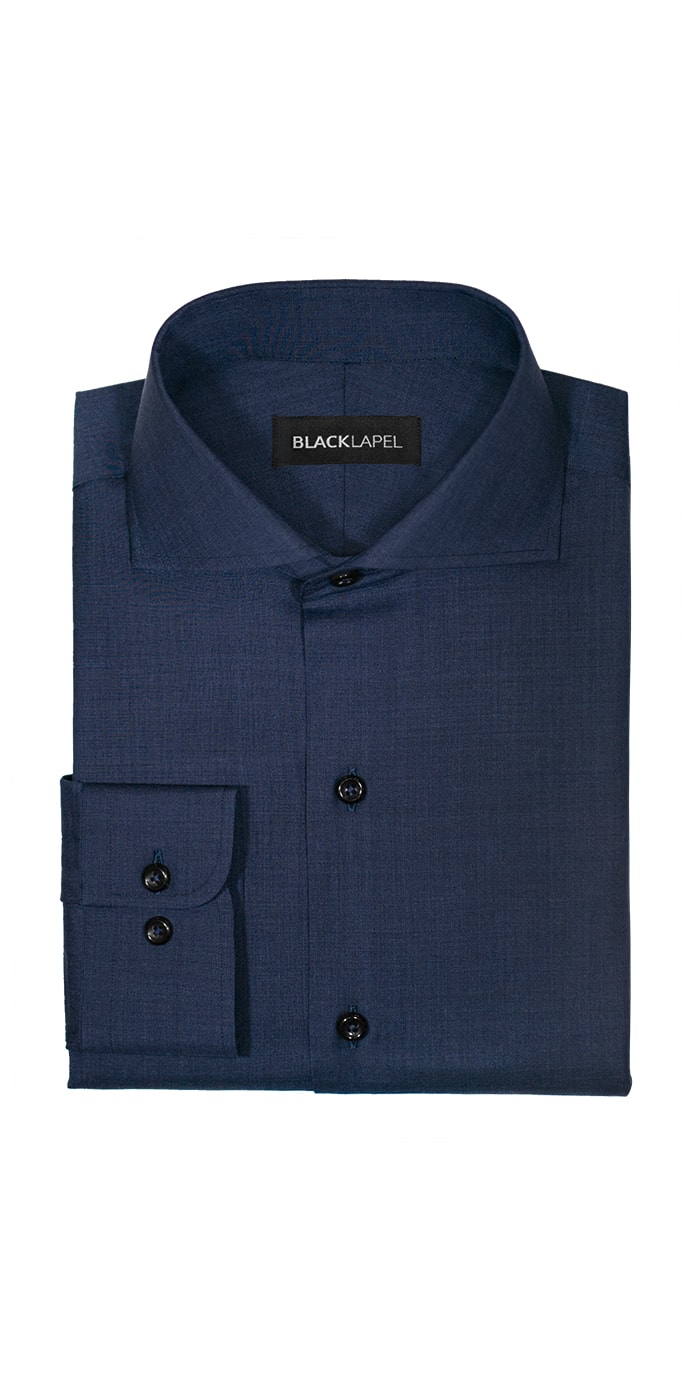 Example #2: Royal Blue Stripe Dress Shirt
The Royal Blue Stripe Dress Shirt works for formal and casual settings. The fine stripe pattern completes contrasting white-on-blue look that anyone can sport. So whether you're going out to hang out or you're going to meet a client, this timeless piece will surely work. Wear it with a closed or open collar, and it will still look good.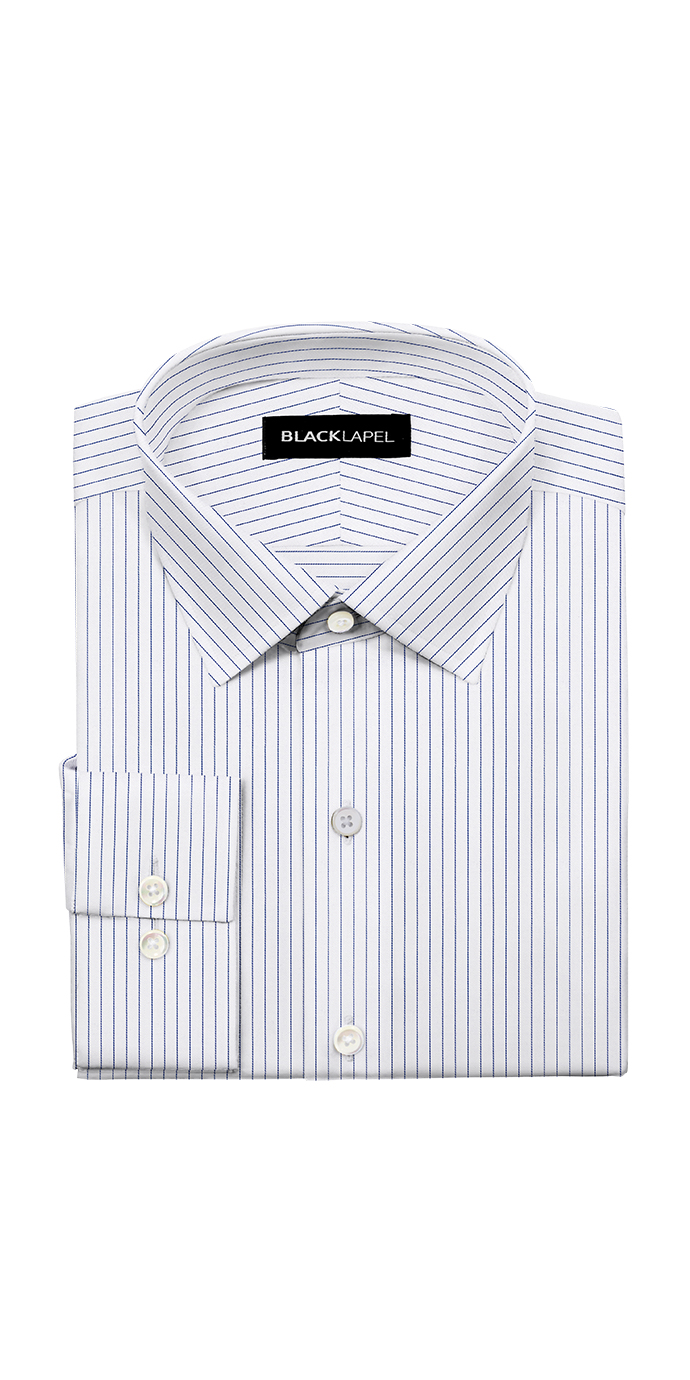 Example #3: Pink Micro-check Dress Shirt
Professional, but dashing? This Pink Micro-Check Dress Shirt is exactly that. This one is masculine without being overwhelming to the eyes of those looking at it. No extra effort is needed to look smart and neat with this shirt.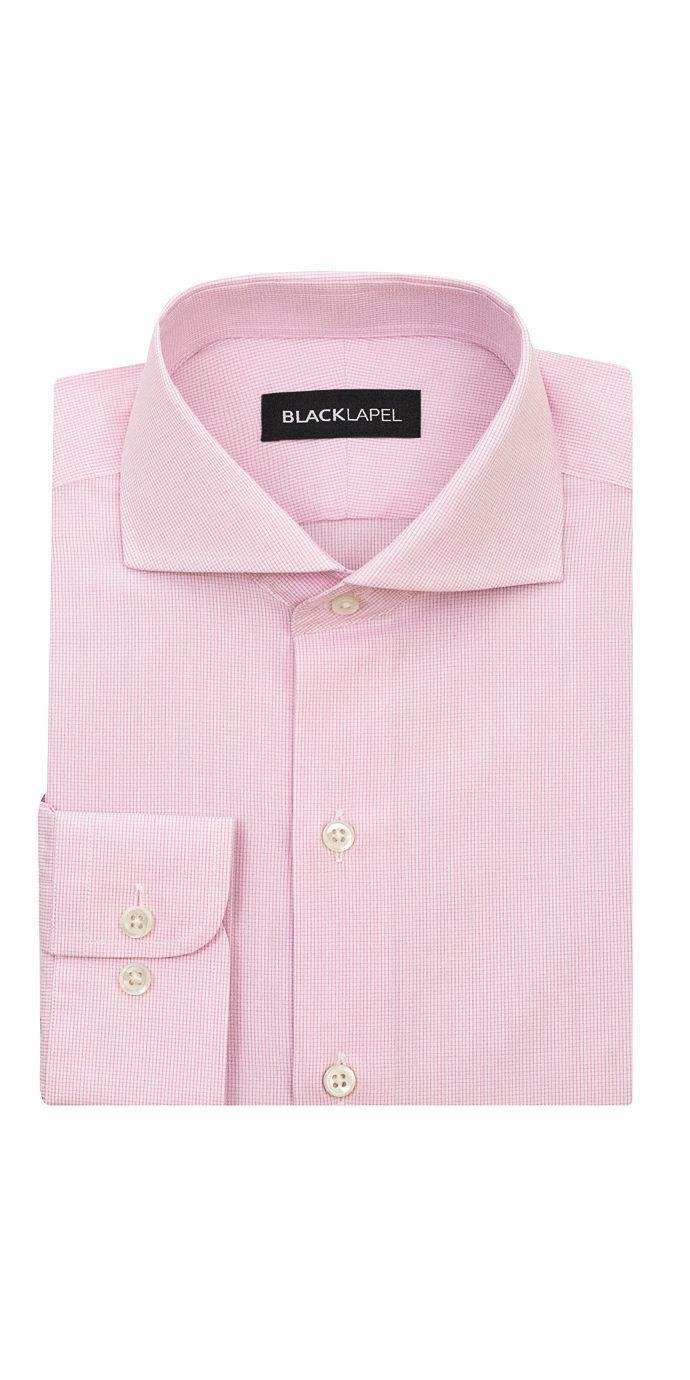 Suit Styles That Best Match A Spread Collar
Your suit options are open to your style with a spread or semi-spread collar. Unlike a cutaway collar, pin collar, or club collar, which works best with your more formal options, spread, and semi-spread collars will look great underneath any of your suits no matter their lapel type – from notch to peak. Nowadays, you can even wear a spread collar underneath a formal shawl lapel with the proper bow tie.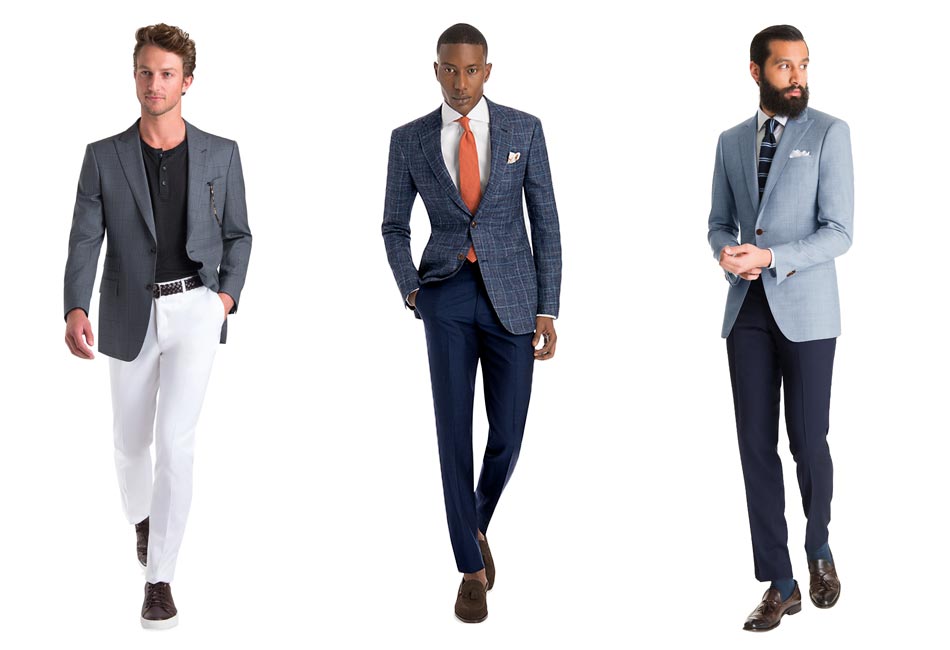 What Face Shape Does a Spread Collar Look Best On?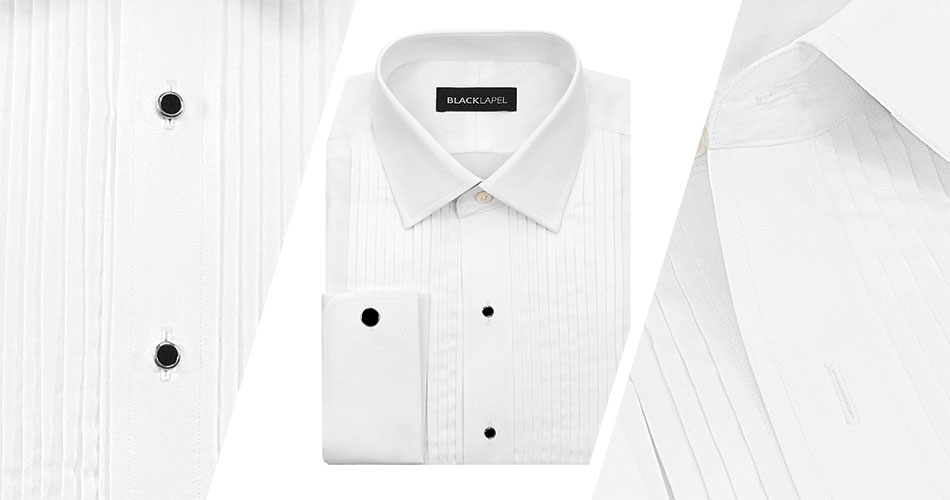 that a spread collar looks best on are generally more narrow and complemented by the more aggressive angle and distance between the two points. The right type of face shapes for spread collar dress shirts include:
Oval

Diamond

Oblong

Heart
Of course, these suggestions are all up to interpretation, and it's perfectly fine if you don't fill those face shapes but still want to rock your spread collar with confidence.
Frequently Asked Questions
You might still have more questions about the spread collar and how to wear it. We've got all the answers you need.
Is it okay to wear a spread collar without a tie?
Although this has tie space, it is perfectly okay to wear a spread collar without a tie – this is a great, dressed-down look, especially when paired with a blazer. However, we will say that a semi-spread collar will look even better without a tie between the two, thanks to its more traditional middle-ground aesthetic.
Can you wear a bow tie with a spread collar?
Yes, with a spread collar (not semi-spread), bow-ties are perfectly acceptable as they fill the large gap between the collar tips nicely. Use this advice at your own discretion, as bow-ties are almost always seen as formal attire, and spread collars can be worn in a casual setting (we'd suggest a tie over a bow-tie).
How should you choose your collar style?
Choosing your collar style comes down to your personal preference with situational formality and face shapes sprinkled in. When it comes down to it, you'll wear what you feel comfortable wearing. However, there are situations like, at a wedding, where you'll want to opt for a more formal option (think cutaway with a bow-tie or wingtip collar with a french cuff).
On the other hand, a normal Monday at the office won't call for the most formal collar type, and you will look more comfortable in a traditional spread or semi-spread collar, much like a fused collar or Cuban collar. Lastly, as we discussed, face shape can play a role in deciding which collar style to choose from, but we would leave that as a last resort when selecting which kind you want to rock (it's a tad subjective).
Do dress shirts have anything to do with a man's personality?
Like any part of a man's wardrobe, dress shirts, of course, play a role in a man's personality. After all, we want to dress our best in things we are most comfortable in to portray who we want to be to others. If you're the type of man that wants to command attention in a room, a larger, more domineering point collar might be something that you gravitate towards.
If you're a man who enjoys versatility and simplicity, you might opt for a spread or semi-spread collar that we've discussed here.
More Helpful Dress Shirt Guides Articles
If you need more help with your dress shirt, don't fret. We've got more guides to help you.
Never wear a dress shirt without ironing it. This guide on

how to iron a dress shirt

should help you figure out how to keep it looking new.

If you've ever wondered

how should a dress shirt fit

, this guide will answer the question for you.

This guide on

how to keep your shirt tucked in

is all you need to keep everything in its place.
In Conclusion
In the end, it's always a safe bet to rock a spread or semi-spread collar dress shirt, and really, they aren't too different from each other at all. The horizontal and distanced points between the collar's tips on a spread collar dress shirt are a can't-go-wrong attractive option that you should always have in your wardrobe. Go forth with your classic spread collar and dominate your dress shirt collar style!
---
Like What You See? There's More.
We'll send you style advice and intel for the modern man.
---