Tuxedo vs. Suit: The Simple Differences Explained
Published on December 12, 2018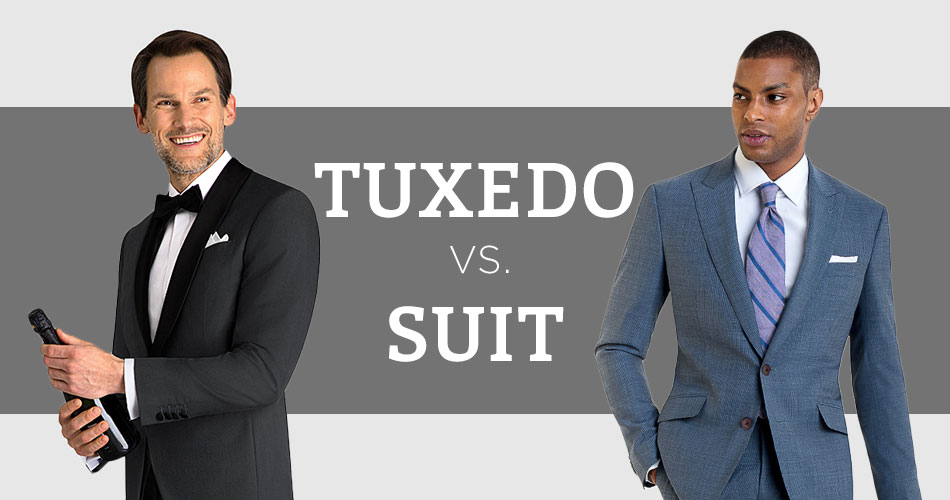 Explaining the Suit vs. Tux Differences
Since time immemorial, there have been rules governing the "proper" formal attire for occasions involving celebration or ritual. For as long as these rules have existed, you could find men who were stumped and clueless about how to follow them. Formalwear today is no exception, particularly when the modern incarnation of men's formalwear, the tuxedo, has evolved to look more and more like the business suit. This can make the differences between a tuxedo vs suit blurry. So if you're confused about the differences between tuxedos vs suits, we don't blame you.
Allow us to help clear up some confusion with a deep-dive into the suit vs tux question. What are the differences between a tuxedo and a suit and can they be worn interchangeably? Are there specific accessories I should wear when donning a tux? Will the menswear gods smite all who dare ignore sanctioned tuxedo etiquette? We can't speak for the menswear gods, but we'll answer the rest of your burning questions below.
---
Tuxedo vs Suit Fundamentals
Though they can seem similar, there are fundamental differences between a tuxedo and a suit. And of course, in the world of customized clothing, there can be a range of tuxedos and suits that don't meet the "traditional" standard. So, keep in mind that our comparisons below are rooted in the most conventional sense of the two.
Tuxedo Fabric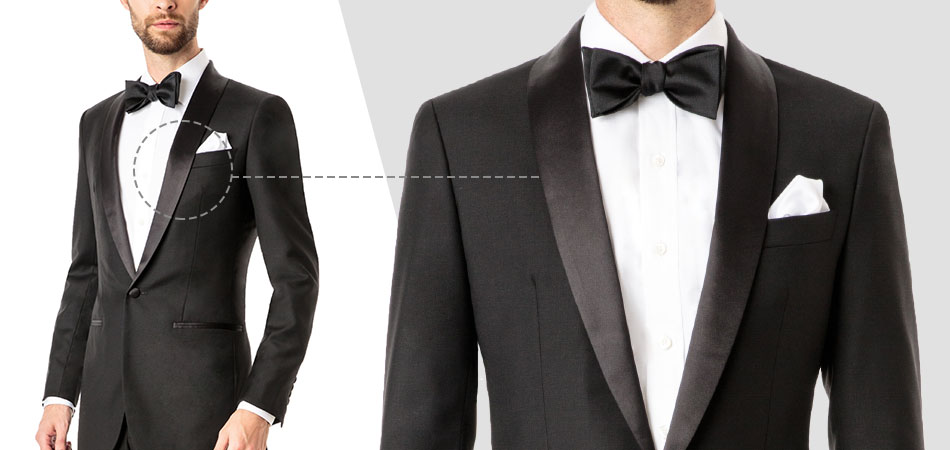 Tuxedos and suits are both commonly made from materials like wool, but the big difference between a tuxedo and a suit is the use of satin (or sometimes grosgrain) fabric in a few areas of the tuxedo. There will be satin facing on the tuxedo lapels (meaning the exterior fabric will be satin), buttons, pocket piping and a satin stripe down the side of the pant legs. Your everyday suits won't include any satin and this is the most overt difference between the two.
Lapels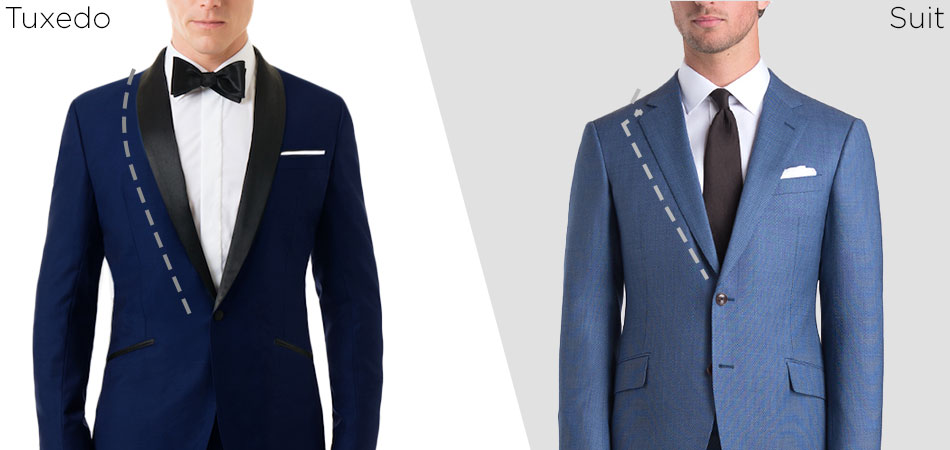 In addition to the facing fabric differences, tuxedo jackets have a few distinguishing design features for their lapels as well.
Whereas a suit jacket will almost always boast a notch lapel or a peak lapel, a tuxedo jacket will sometimes feature a shawl lapel. Like the notch and peak lapels, shawl lapels come in various widths and shapes but will almost always signify a tuxedo that's meant to be worn to more celebratory events (think holiday party or red carpet). You will rarely find notch lapels on a tuxedo jacket and for good reason; notch lapels are a more casual lapel style and can be incongruent when paired with formalwear.  You'll see it on store shelves on occasion but we don't recommend the look.
You'll also rarely find a boutonniere buttonhole on a tuxedo lapel. While they can be found on some peak lapel tuxedo jackets, we find the unbroken sheen of a continuous panel of satin to be more aesthetically pleasing. And when a flower is needed to decorate the lapel, a pin will suffice to secure one in place.
Buttons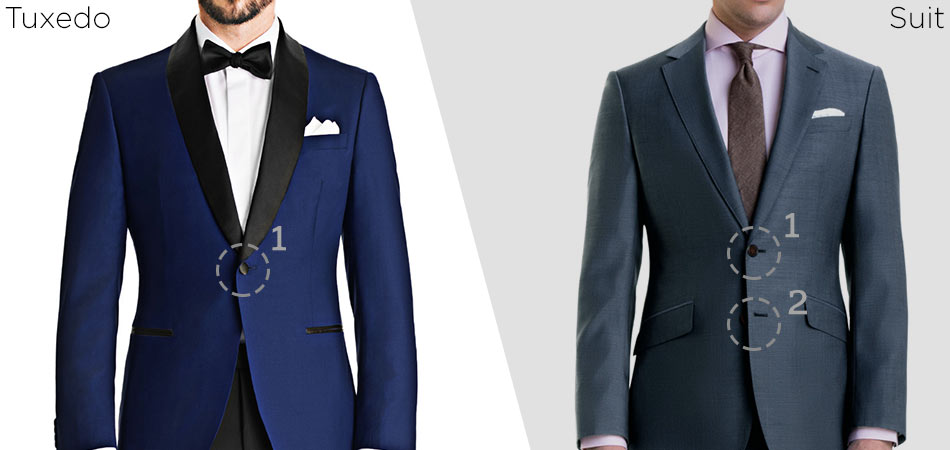 In addition to having satin covered buttons (we recommend standard bull-horn for your pants), the tuxedo jacket should also come in just a single closure button design. Suit jackets range from one to three buttons, but for your tux jacket, we suggest limiting it to one.
A single button tux jacket forms longer unbroken lines in the front which creates an elegance consistent with the aesthetics of a clean and sleek look. Double breasted tuxedo jackets exist, but like the notch lapel on a tux, we don't recommend this look.
Pocket Styling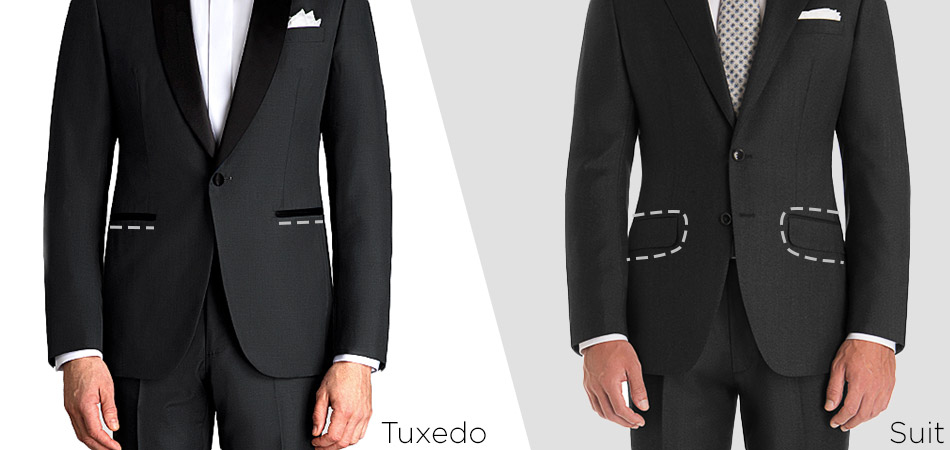 Pocket styles are another major differentiator between a tux vs suit jacket. In order to maintain the clean lines and overall sleek aesthetic of the garment, tuxedo jackets avoid the traditional flapped/patch pockets found on suits and casual blazers.
Instead, tuxedo jackets will feature pockets that are just about sight-unseen — jetted pockets. These feature a discrete amount of satin piping along its opening and are a subtly stylish complement to the tuxedo's clean lines.
Color Options
Tuxedos are available in a significantly more limited color range than suits. Most men will never need anything other than a traditional black tuxedo or midnight blue tuxedo. Other options can be found but are almost always a darker solid color. Regardless, the lapel facing satin on a tuxedo jacket will still typically be an elegant black. This can be a handsome contrast if you opted for a blue tuxedo.
Suits, on the other hand, are made in an extensive assortment of colors and patterns. All of these colors (including navy, gray, black, and brown) are fair game for any man provided he has the swagger to pull it off (we dare you to try this handsome olive cotton suit).
The Pants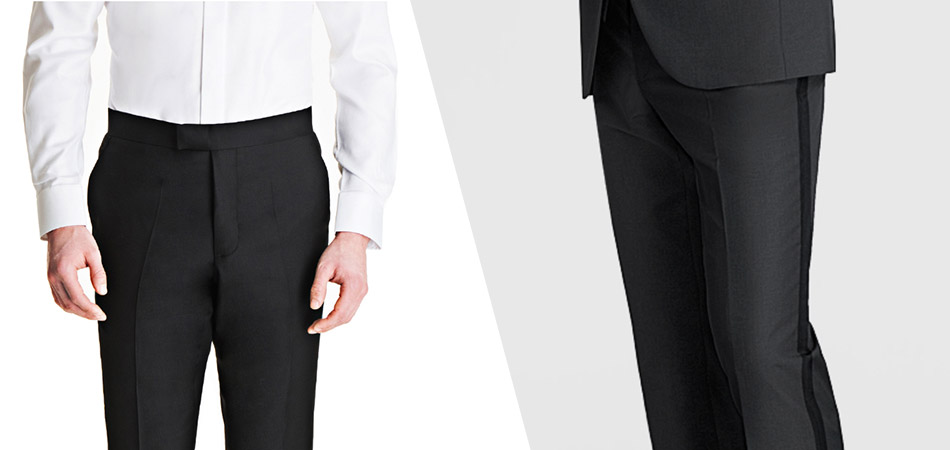 While tuxedo and suit pants aren't as exciting, there are some notable differences between the two. First, as we mentioned, tuxedo pants have a satin strip down the side of the pant legs to match the satin on the jacket. This satin strip runs the entirety of the length of the outer seam. This is crucial as it adds to the clean lines and sleek appearance of the tuxedo as a whole.
Second, unlike most suit pants, tuxedo pants won't have any belt loops — period. You might wonder,  how the heck am I supposed to keep my pants from falling down? First, this isn't a manufacturing defect. The lack of belt loops are intentional and are part of the clean aesthetic of tuxedo style.
Details matter
on your big day.
Stay in the know with wedding style advice and more, delivered straight to your inbox.
Keepin' Your Pants Up
The easiest way to ensure your pants stay snug is to wear them at the right height. Even better (and something we strongly advocate for) is to have your tuxedo pants custom made. This ensures that a belt is not needed to keep them up as they should fit perfectly around your natural waist. If going custom isn't an option for you, suspenders will tag in to replace the belt and save the day. Suspenders make for an excellent choice not only functionally, but stylistically so make sure you learn how to wear suspenders the right way.
Tuxedo pants (and some suit pants) will sometimes also feature a nifty innovation in the form of side adjusters. These are either made of a metal buckle and fabric strip on each side that can be used to adjust the snugness of the fit or feature a button system that works with an elastic strip of fabric inside the waistband to achieve the same effect.
As far as your suit pants, these will have traditional belt-loops, and (hopefully) you've figured out how to wear a belt by now. However, suit pants can also be worn with suspenders if you're lucky enough to have buttons added along the inside of your pant waistbands and makes for a nice alternative to give your belts a break.
---
Completing the Look — Tux vs Suit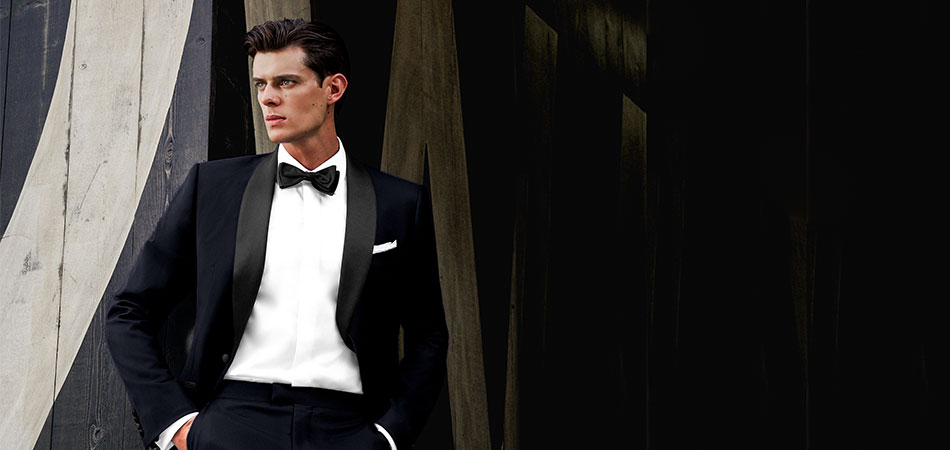 There are also a few key differences between the two when you're rounding out your look. This includes the kinds of shirts that are appropriate and the best (and sometimes only) accessories that are right for the tux.
Wearing a Waistcoat or Cummerbund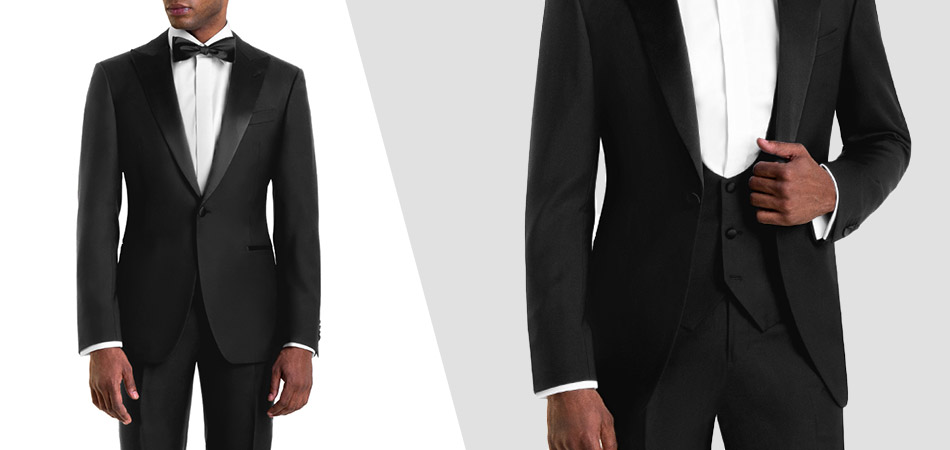 When you are wearing a tuxedo, you can consider wearing a tuxedo waistcoat or a cummerbund. A tuxedo waistcoat is, for all intents and purposes, a vest. It's differentiated via a lower button stance featuring a deep 'U' shaped opening. The lower opening is to allow the waistcoat to be entirely hidden when the tuxedo jacket is buttoned. A cummerbund is a pleated sash, often satin in appearance, that is worn around the waist as a more traditional alternative to the waistcoat.
What's its purpose? Sometime when you're wearing your tuxedo, you will want to unbutton your tuxedo jacket (including any time you're seated). At this point, your shirt is exposed and it's a common rule that your waist needs to be covered by one of these two aforementioned options. We're not fond of this rule and believe your waist can be unadorned if your shirt is clean and freshly pressed.
---
Tuxedo Shirts vs Dress Shirts
This can be a broad topic but we'll keep it simple here and only discuss: color, collar, cuff, and placket of shirts that go with tuxedos.
Color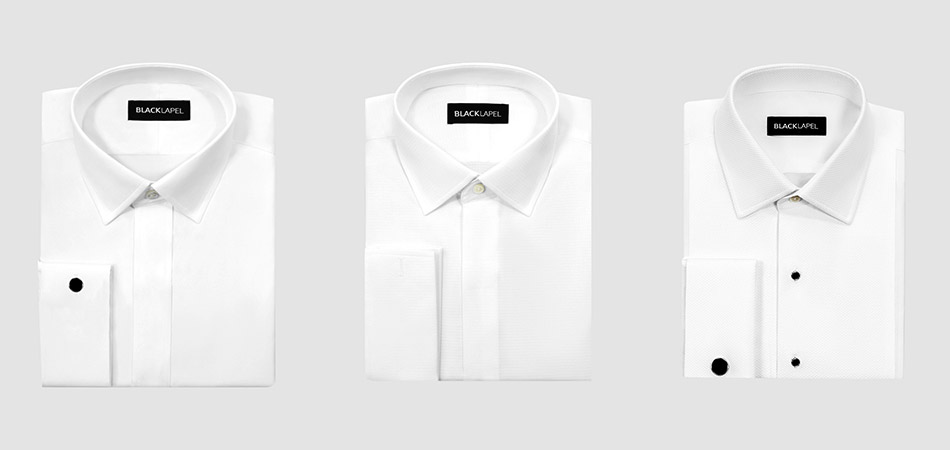 Regardless of any other design feature, your tuxedo should always be worn with a white shirt — no exceptions. If you pass this step, you can literally get everything else wrong about the shirt and 95% of the room won't notice.
Collar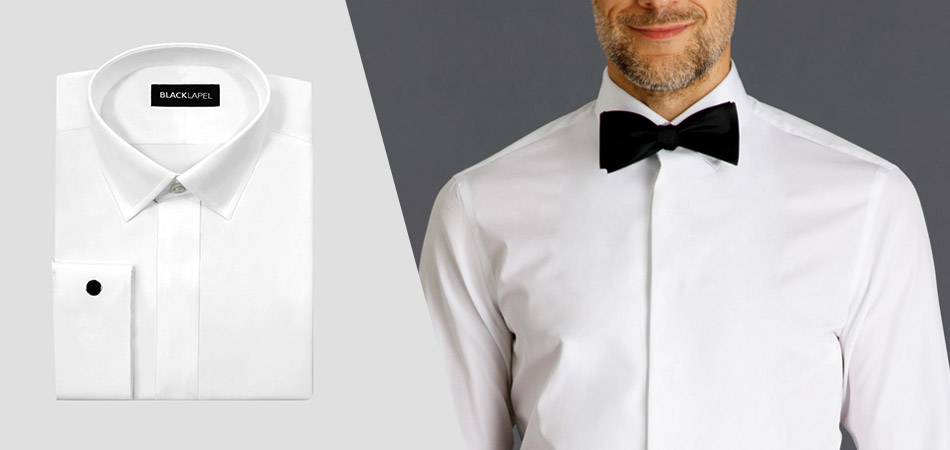 The collar of a traditional tuxedo shirt comes in what is called a wing tip, the design meant to be worn with a bow tie. Instead of having larger collar points fold down like a typical dress shirt, the collar points on a wing tip are abbreviated in size and don't wrap around the side or back of the neck. However, this is another area where the rules have relaxed.
Nowadays, a semi-spread or spread collar that is found on a typical dress shirt is an acceptable pairing with a tuxedo, even when worn with a bow tie (like the image above). Just make sure to avoid the button-down collar typically found on oxford shirts as this is too casual of a style to match well with the tux.
Cuffs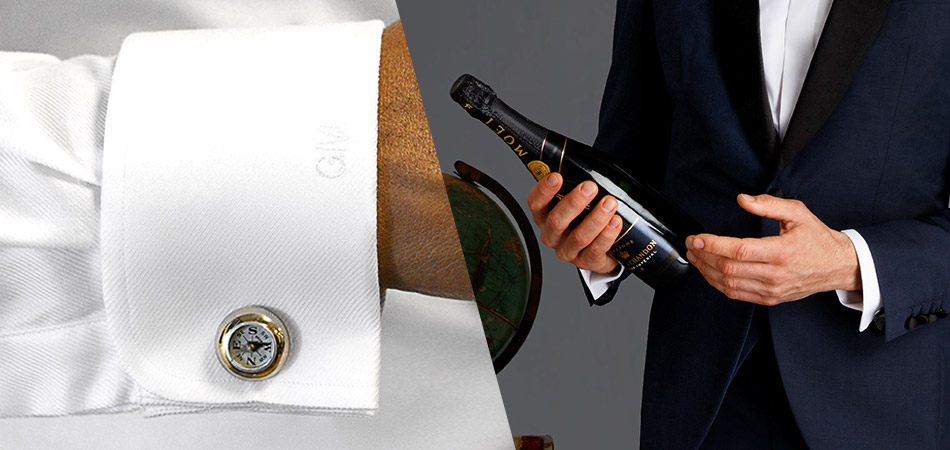 While cufflinks make an occasional appearance with suits, they're a consistently good pairing with your tux. This consistency is what makes French-cuffs an ideal cuff style for the tuxedo dress shirt. You don't have to wear French-cuffs, but it certainly maintains the level of formality desired with very little additional effort. Plus, this gives you the chance to wear some wrist bling. If you need more help with this, we have an article showing you how to wear cufflinks.
Placket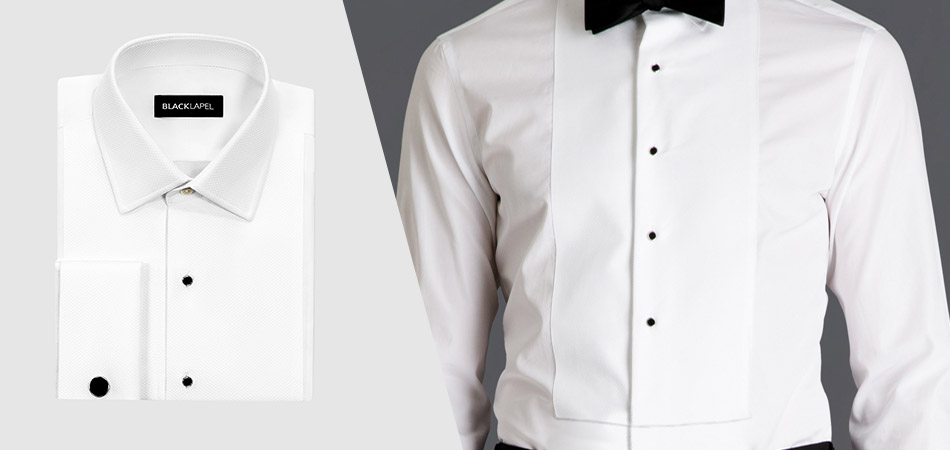 The placket of the shirt is the narrow strip down the front where your buttons and buttonholes reside. This is the one area that has the most amount of variation from tux vs suit shirts. Tuxedo shirts can come with plackets that are meant to be worn with tuxedo studs (metal buttons that are inserted into buttonholes on both layers of the placket) or standard plackets with an extra layer of fabric covering the buttons (often referred to as a hidden placket). The chest area adjacent to the placket on tuxedo shirts can also feature pleats or a bib front that doubles up the shirt fabric for an intentionally starched and stiffer look.
---
Suit vs Tuxedos — Accessories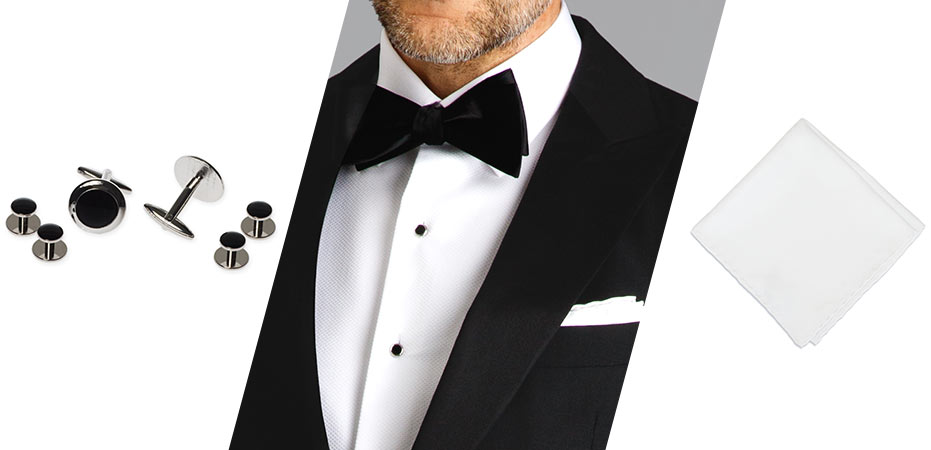 On to the accessories. The touch of personality you get to bring to your formalwear ensemble. We'll cover the basics and note a few key differences vs suiting accessories.
Bow-Ties/Ties
Black bow-ties are the traditional choice when you're wearing a tuxedo. They come in the classic square tips or diamond shaped tips and varying widths and can come pre-tied (clip on) or simply learn how to tie a bow-tie.
Wearing a neck-tie instead of a bow-tie with something as formal as a tuxedo is sartorially frowned upon. If you must do it in a pinch, go with a slim black neck-tie — really try to source a bow-tie. With your suit, you can wear a bow-tie too, though it probably shouldn't be black. They come in a variety of colors/patterns and can be a dandy look.
Pocket Squares
A white pocket square is an absolute essential for your tuxedo. We don't really recommend any other color for formalwear occasions. A suit can accommodate just about any pocket square you can dream up so long as the colors contrast well with the rest of your outfit.
Tuxedo Studs and Cufflinks
If you opted for a tuxedo shirt with stud holes in the placket, you'll need some studs to go with your outfit. These studs essentially serve as buttons connecting both layers of your shirt placket together to close up the front of your shirt. Similarly, if you opted for a French-cuffed dress shirt (you should), you'll need cufflinks to keep the cuffs cinched. There are options-a-plenty for cufflinks, from classic to novelty styles, or even ones that match your tuxedo studs.
---
What About The Shoes?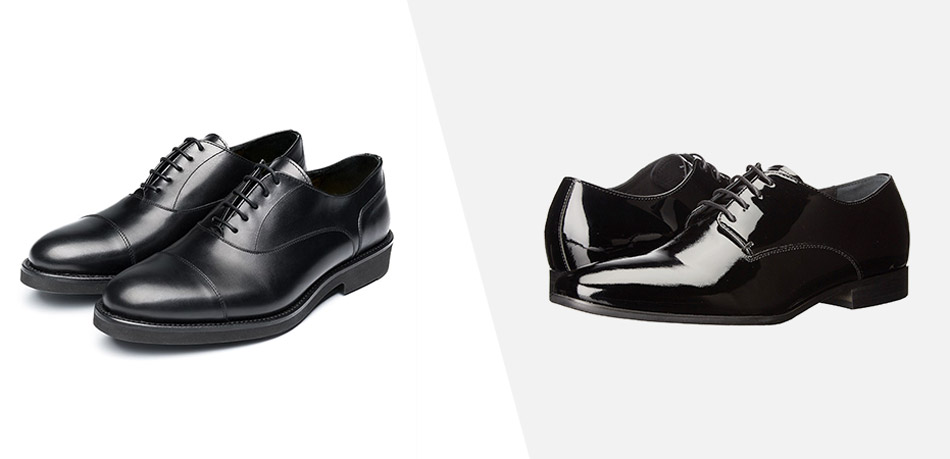 This one's simple. Unlike suits where you have to coordinate your shoe color to your belt, you'll never wear a belt when you go black tie. So does that mean you can wear any old dress shoe with your tux? Not exactly. For one, you need to stick to black. It'll tie in nicely with the black in your lapel and bow-tie.
The material is immaterial (pardon our one pun in this rather lengthy post). They can be patent leather, suede, or a recently shined calfskin oxford. They can even be a pair of elegant velvet dress slippers for more intimate affairs. Just remember to keep it black and keep it clean.
---
Tuxedo vs Suit for Weddings and Occasions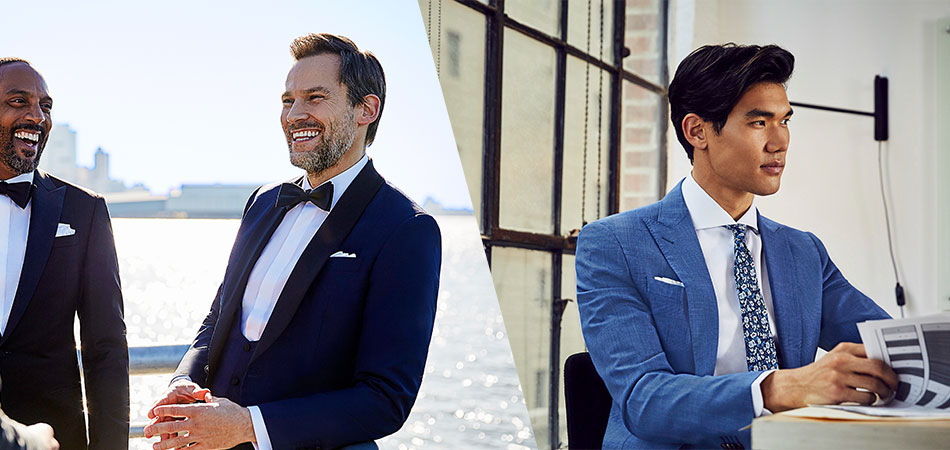 There is a vast chasm in formality between suit vs tux. They make completely different statements and are fitting attire for different occasions. When wearing one is appropriate, wearing the other can sometimes be an embarrassing faux pas.
Tuxedos are typically worn only at black tie events and traditionally only in the evening. Because they are saved for rare occasions, wearing a tuxedo sends the message that this moment is special and you're giving it your best. Tuxedos are for formal weddings, charity galas, nights at the opera and other elite events like red carpets. Show up to work in a tuxedo on the regular and prepare to entertain a weird conversation with your boss about the dress code.
Suits are appropriate for any time of day and can be worn at a larger range of events like work, a fancy night out, and even to most weddings. That includes weddings that are black-tie optional allowing for either (though we suggest you tux-it-up like your host is probably doing).
---
What's a Dinner Jacket?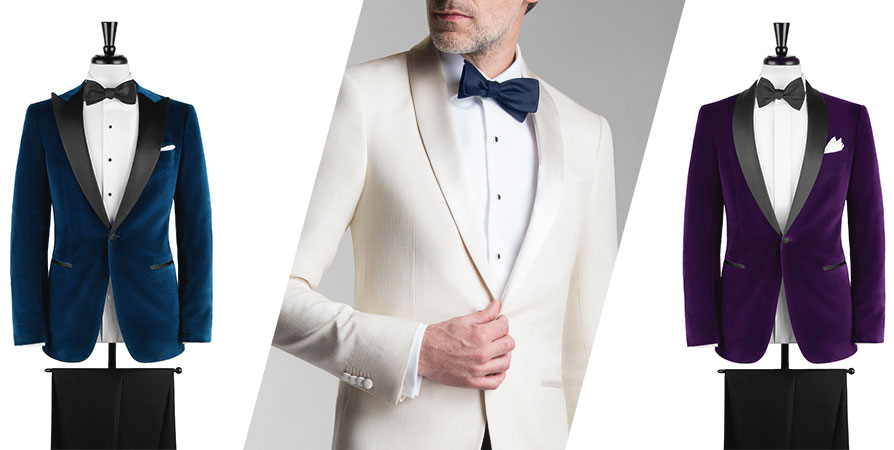 A final word on dinner jackets. The term originated in Great Britain as their descriptor for what we across the pond call the tuxedo. However, in modern times, especially in the United States, a dinner jacket is more commonly used to refer to a contrasting tuxedo jacket that is not black or midnight blue in color (typically still worn with black tuxedo pants).
Contrasting dinner jackets can serve as a stand-in outfit anytime black tie is the suggested attire. For the most part, they can be considered a subset of the tuxedo. Though like the comparison between blazers and suits, you'll find that vs tuxedos, contrasting dinner jackets come with a bit more variety. The variation is found in color (like the ivory dinner jacket) and material (like velvet). Virtually all of above advice on tuxedos can also apply when pairing a dinner jacket with tuxedo pants.
---
Asked and Answered
Tuxedos can be a bit confusing, but we hope your burning tuxedo vs suit questions have been extinguished.  If not, we totally get it, and we're here to help. If there is anything you need more clarity about, feel free to leave a comment below!
---
Like What You See? There's More.
We'll send you style advice and intel for the modern man.
---