March Madness Office Pool Hosting Made Easy
Published on February 7, 2017
Office Pool Hosting 101
Before we go too much further, let's address the elephant in the room…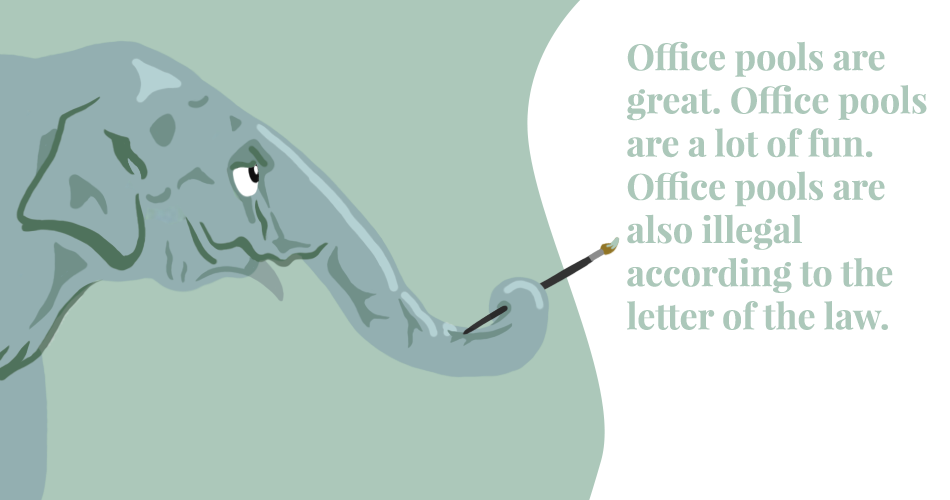 True, Mr. Elephant. However, nobody in our criminal justice system is going after office pools because A) there are just so many of them, it would be an almost impossible task to track all of the participants down B) even if they could be tracked down and prosecuted, it would mean charging millions of people with crimes, flooding the judicial system and, because pools are so prevalent in offices, bringing the entire economy of the United States to a screeching halt. Oh and C) law enforcement loves March Madness pools too. In fact, one of the few pools that's ever been prosecuted, because it had grown so astoundingly large (an $837,000 pot with about 8,000 entries), famously included New Jersey state trooper entrants.
Bottom line: we're not saying it's 100% legal but if we were going to run a pool, here's how we'd do it.
---
Step 1. Register the bracket
With the proliferation of fantasy league websites there are tons of ways to build your pool online. There's no need to print out tons of brackets and spend March weekends checking to see who wrote in which teams. Registering a bracket online at a site like CBS Sports means we can build it once and let the machines do the work.
Step 2. Collect the cash
Being the bank used to be a pain but with services like Venmo groups of people can transfer money from person to person pretty easily. Keeping the money in a Venmo account makes for clean and simple money management. We just have to make sure everybody knows how to move money and avoid fees and it's easy to keep track of the cash from an app.
Step 3. Track the games
In these days of one-and-done college basketball teams, it's tough, even for fans, to keep up with who's playing where and who's best. But we consider running a pool a great excuse for logging hours on the couch watching games. Sure, we'd be in better shape if we used that time playing basketball, but what the hell, March Madness only comes once a year.
Step 4. Pay out
Once the madness is over there's still the little matter of paying out the winnings. At this point we'd be tempted to take a cut of the winnings for all our hard work. But we wouldn't. While the whole idea of an office pool is wink-wink, nudge-nudge illegal, taking a cut turns you from a guy just having some fun at his office like the rest of the world and makes you a bookmaker in the eyes of Johnny Law. We're not looking to antagonize, so we just hand over the money and everybody sleeps in their own beds tonight.
So, as you can see, keep your wits about you and you can run the best office pool ever. Now check out who you'll meet along the way and how to keep your productivity up even when the games are going on.
---
Like What You See? There's More.
We'll send you style advice and intel for the modern man.
---