Buying Your First Suit — 5 Key Buying Factors
Published on January 16, 2019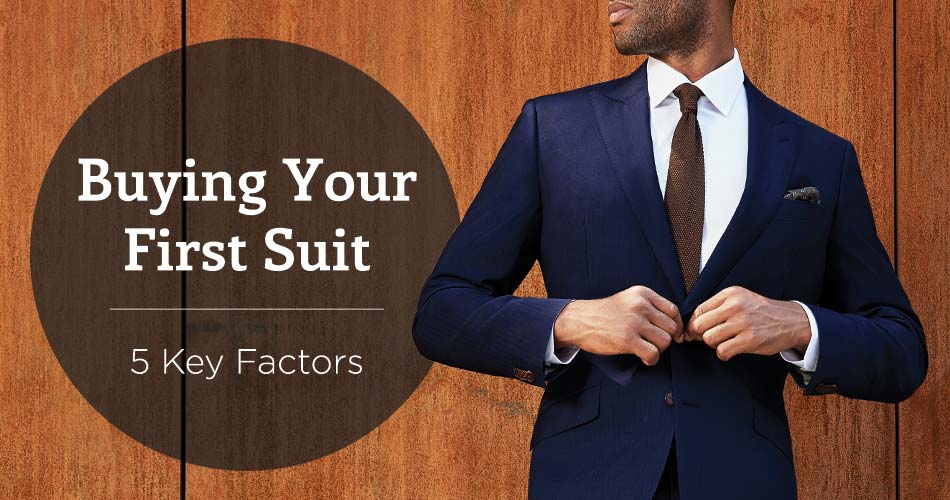 What To Look For When Buying Your First Suit
Your life is filled with unforgettable firsts: your first word, your first steps, your first kiss, your first car, your first job. These first-time events etch a metaphorical notch on the post that is your life, signaling significant change and growth, maturity, even.
Along the way, your wardrobe has had some pretty important "firsts" too: your first shoes with shoelaces, your first non-velcro wallet, your first necktie that isn't clip-on. All leading up to that monumental menswear moment — your first suit.
Buying Your First Suit Is Important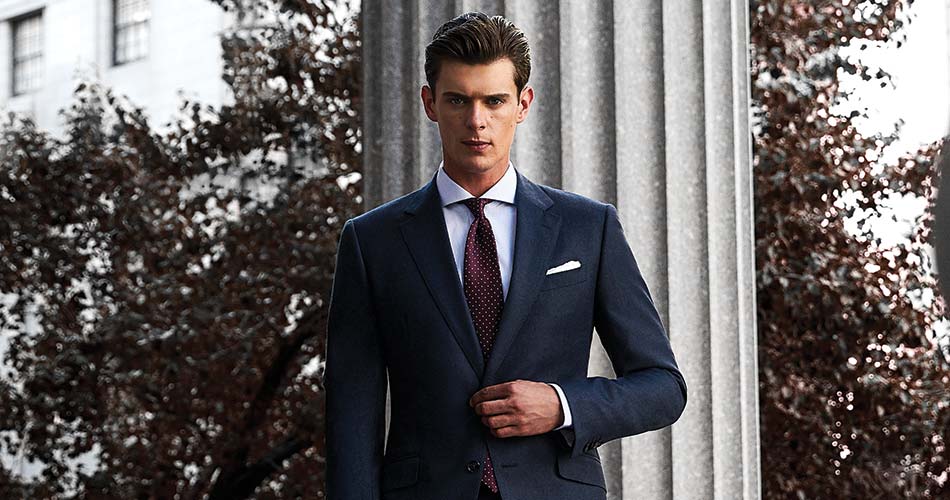 Buying your first suit is an important step in your life. For many long-time Compass readers, you've already accomplished this step (feel free to forward this article to someone in need of guidance), but for many of you, this is a momentous occasion. It could be the suit that lands you your first job or a first date with that good looking stranger. A lot might be riding on that suit, and this may lead some men to overthink things when buying their first suit.
We're here to help your sartorial jitters because much like your first kiss or purchasing your first car, buying your first suit should be a fun and exciting experience. In the end, it's simply all about knowing what to look for. Luckily, we know a thing or two about what to look for when buying a suit, and we're here to help. So, grab a pen and paper, take notes and get excited — you're on your way to getting your first suit!

---
The 5 First Suit Buying Factors
There are several things to consider when you're buying your first suit. Don't worry, they're simple once broken down. The following five points make up the decision-making factors you'll be faced with, and with this knowledge in hand, you can feel confident knowing you're going to look great.
1. Buy a Neutral Color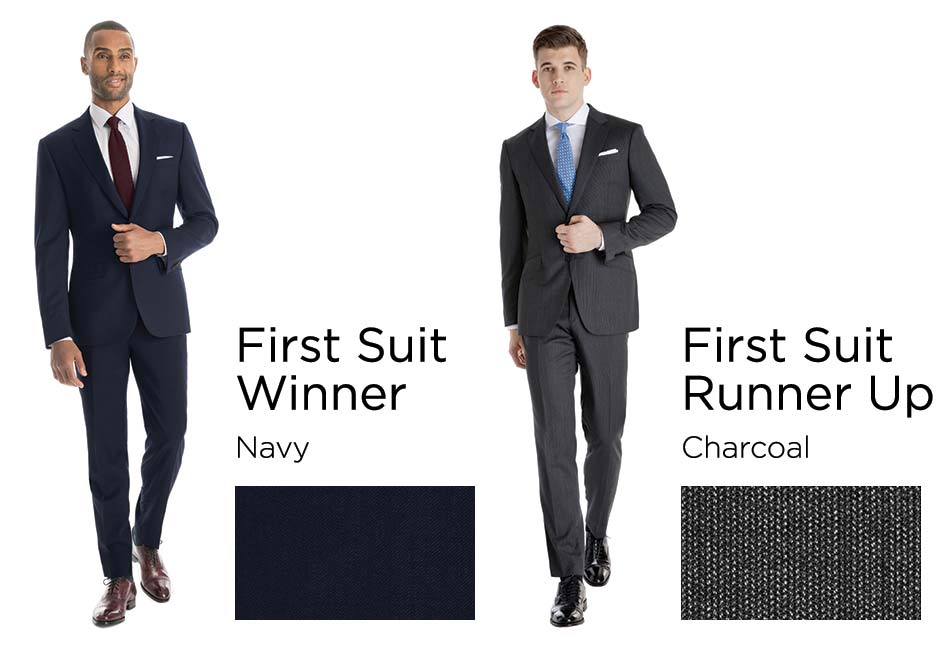 You've probably seen dapper gents like Ryan Gosling, Eddie Redmayne and Donald Glover rock suits with bold audacious colors on the red carpet and become fixtures on best-dressed lists because of it — they look great, but these aren't their "first suits". While we're all for pushing boundaries and breaking rules, your first suit is not the right time for experimentations like these.
Your first suit needs to be an all-purpose garment. It needs to carry you through a range of professional and personal occasions without looking out of place. Skip black as your first suit, unless it's mandatory as part of event attire, such as dressing for a funeral. Instead, choose a tried-and-true first suit color: navy (our first choice) or charcoal.
Navy and charcoal aren't flashy colors, and that's exactly the point. It's all about versatility, and your navy suit or charcoal gray suit is not only going to pair with virtually everything else in your wardrobe, but it's also going to work in most situations no matter the formality. If you need more clarity, we have an in-depth article on how to choose your suit colors.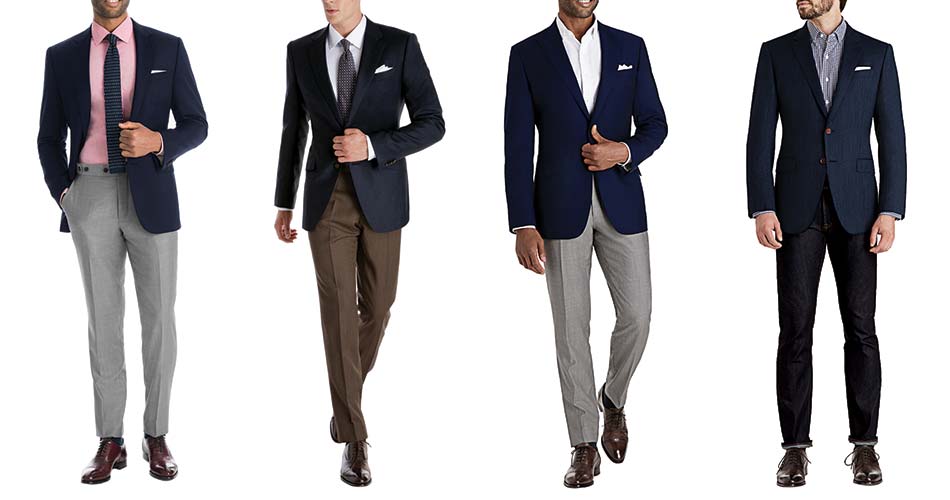 ---
2. Pick the Right Fabric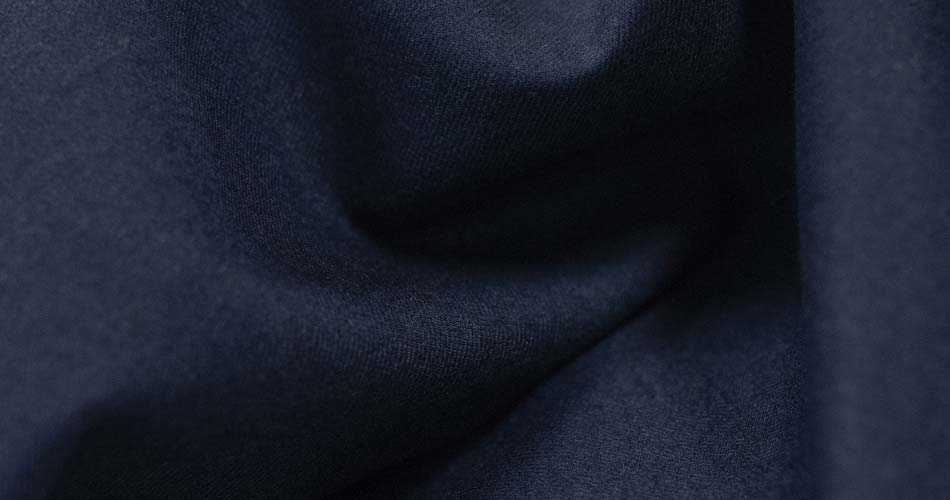 Much like the color, your first suit needs to be made with quality fabric that is multi-purpose. With fabric, multi-purpose means selecting a fabric that is all-seasonal and can be worn year round. This is a simple choice — go with wool.
Why Choose Wool?
Wool has been the suit fabric of choice for centuries and is still the standard today. Wool is natural, breathable, water-resistant, drapes well, feels good to the touch and can last for decades if cared for properly.
A better investment, in the long run, is a wool suit even though it may be pricier than other options.  We can see where the temptation to buy a polyester suit comes from, but we suggest you read our article on polyester vs wool suits first.
All Seasonal Wool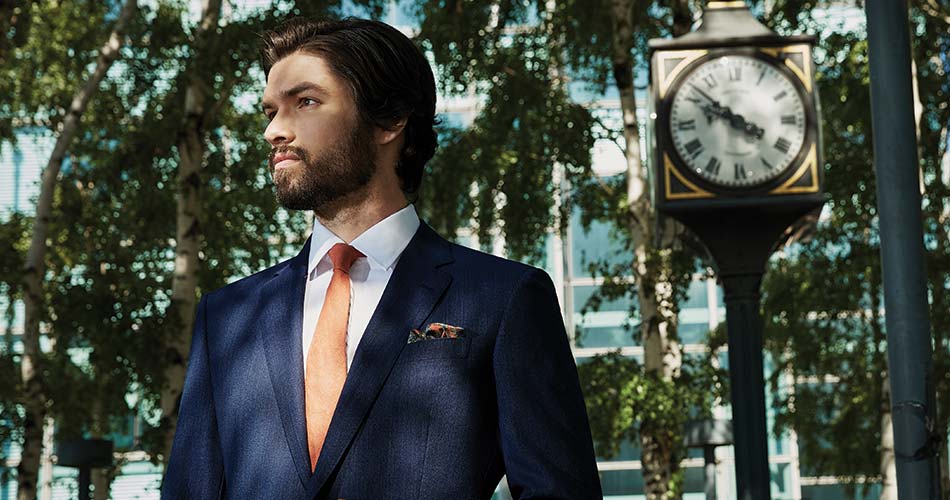 Now not all wool suits are all seasonal suits. Some wool suits have earned their reputation for warmth. A wool flannel suit (a specialty weave) is great for the fall and winter due to its coarse finish and heavier weight yarns but wear one in the summer heat and you'll feel like you're trapped in a steam room.
Conversely, an open-weave summer weight wool like a fresco weave suit is ideal for warmer weather and may leave some feeling under protected from the elements in the winter. To be comfortable all four seasons, choose all-seasonal wool.
---
3. Nail The Fit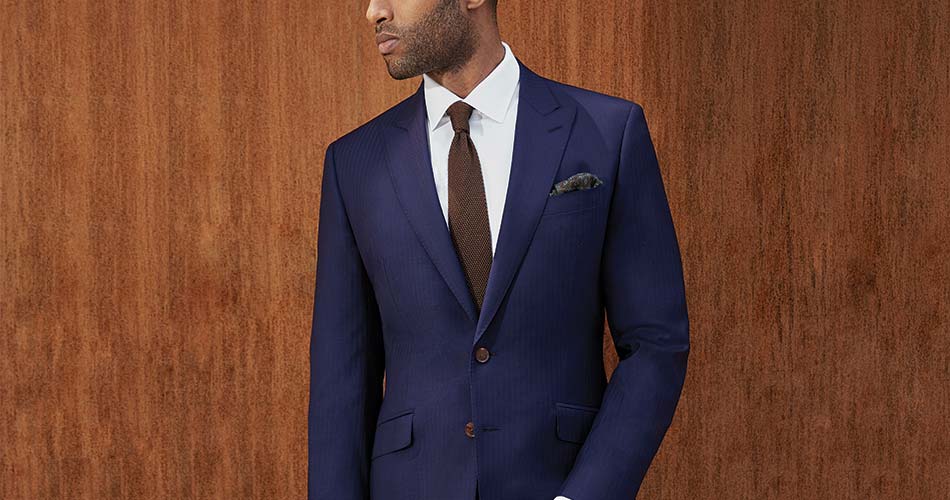 When it comes to buying your first suit,  the fit is obviously going to be important. Nothing gives away a poor decision on a suit purchase like protruding shoulders or excess fabric pooling around the ankles. A scavenged clearance rack suit is the same as a $2,000 dollar suit that doesn't fit right. Trust us on this one. You will regret not spending more time (or money, if necessary) on fit if you ignore it. An easy way to make sure your suit fits is having it custom-made to your measurements. If going custom isn't an option for you, make sure you learn what proper fit looks like before you buy off-the-rack.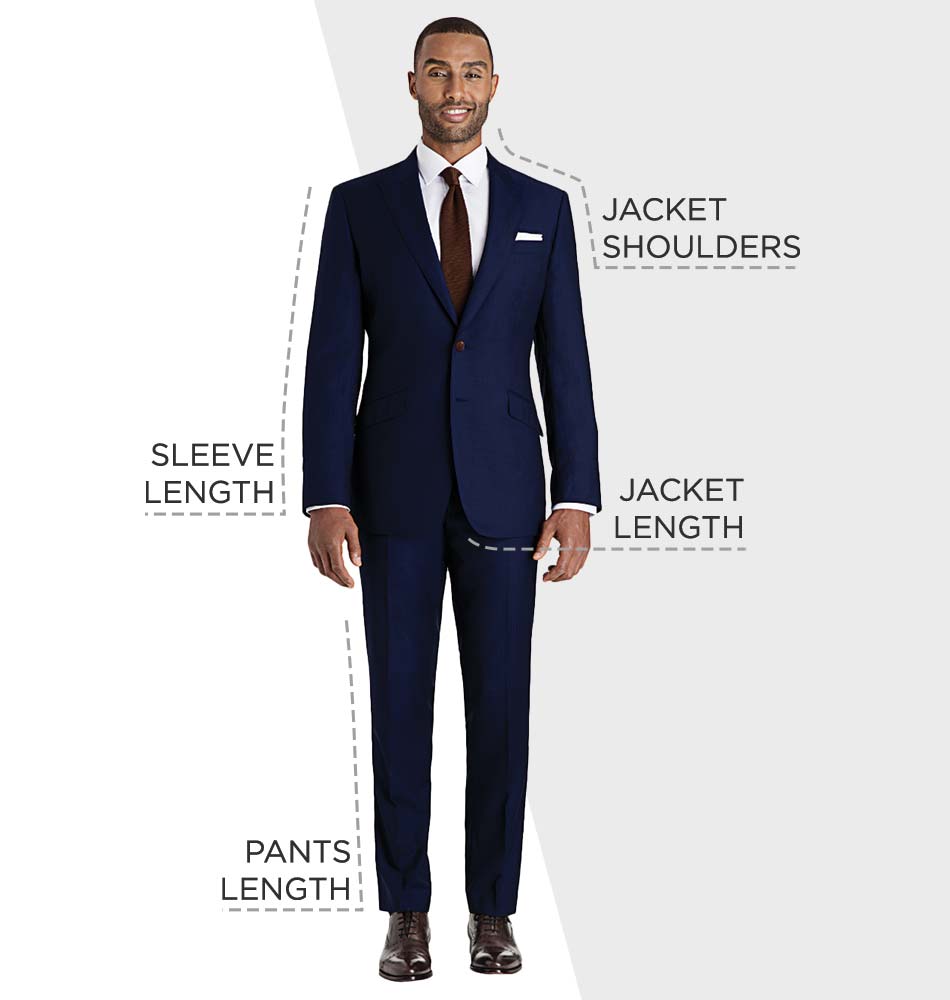 A few basic guidelines to follow:
The shoulders of the jacket should align with your shoulders, creating a smooth line from collar to shoulder point and a sharp drop where the shoulder meets the sleeve.

The jacket sleeves should be long enough to expose about a quarter inch to half an inch of your shirt cuffs.

The jacket should be long enough to drape nicely over 80 – 100% of your rear and touch the center of your thumb when standing with your arms relaxed by your sides.

The dress pants should neither puddle over your shoes or expose an excessive amount of sock when standing. Within those confines, there's wiggle room for personal preference regarding the break.
A Note About Alterations
Alterations aren't possible for some parts of your suit. Understand what can and cannot be practically (or cost-effectively) adjusted by a tailor and what aspects of fit to focus on most if you end up buying off-the-rack. For example, if you find a great suit that fits everywhere else except the shoulders, you might think twice because shoulder alterations are the most expensive to perform (and not many alterations tailors are up to the task).
---
4. Stick To Basic Styling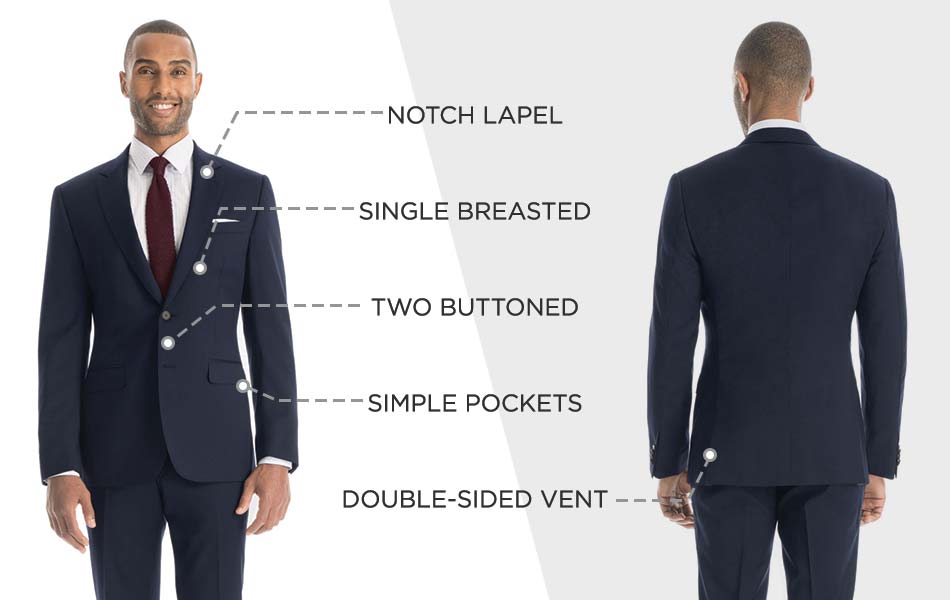 When it comes to the design details of your first suit, there's a recipe for getting it right. Follow this checklist to look smart in any situation.
Single-breasted
A double-breasted suit can be a dashing choice, but it's a more advanced fashion move that does not serve the purpose of a versatile first suit. You'll want to stick with a classic, single-breasted suit that best serves the universal functionality a first suit should possess.
Two buttoned
As a first suit, stick with a two button. There are other options, like a single-button or three-button, but these are far more situational and not always a safe bet. A two button suit will no-doubt flatter anyone and is the ideal first suit choice. Check out our guide to suit jacket buttons for more reasons why this is our verdict.
Notch lapel
Lapels come in two main styles – notch and peak – and are offered in a variety of widths. For your first suit, stick with a notch lapel. The more formal peak lapels work great with some suits/tuxedos but notch lapels work in virtually all environments and is a wardrobe staple. There are a few other optional factors to consider and thankfully, we have a guide to suit lapels, too.
Simple pockets
From head to toe, simplicity is key when buying your first suit. Look for flap pockets in standard placement (two pockets in the front torso of the jacket plus one breast pocket). Avoid patch pockets as they are too casual, and avoid jetted/piped pockets as they belong on a tux.
Double-sided vent
The back of your first suit jacket should feature a double vent. It's more formal than a single vent and helps your jacket hem break better when seated or when you place your hands in your pant pockets. It's a safe, and standard choice that takes home the win every time.  
---
5. Consider Your Budget
Budgeting is the least sexy part of buying a suit, but it's a mistake to ignore it. We suggest budgeting about $400 to $600 for your first suit, but you should also take an honest look at your finances and decide on a reasonable price range you'd like to consider. As tempting as it might be, there's no reason to max out your credit cards for a suit, and there's no reason to believe you're stuck only with a cheap suit either. There are affordable quality suit options out there. Nowadays, it's even easier with companies that have cut out expensive middleman retailers to sell made-to-measure suits online, like Black Lapel.
Being stylish takes work.
We can help with that.
Stay in the know with style tips, how-to's, and so much more with our weekly newsletter.
A made-to-measure suit splits the difference between a bespoke suit that can be out of reach for most of us and an off-the-rack suit that won't get some of the basics right, including fit. Made-to-measure suits offer extensive options for customizing the design, is typically better constructed than something off-the-rack, and should guarantee a personalized fit. This ensures you look great in your first suit and that it will also last.
---
Time For Your First Suit
Congratulations, you made it past the boring part. Now that your research is out of the way, it's time to officially choose your first suit!
We hope you're excited — you should be. Oh, and if scouring for an off-the-rack suit feels too daunting and time-consuming, Black Lapel was created to provide affordable, custom suits delivered to your door, no hassle required. The perfect navy suit awaits.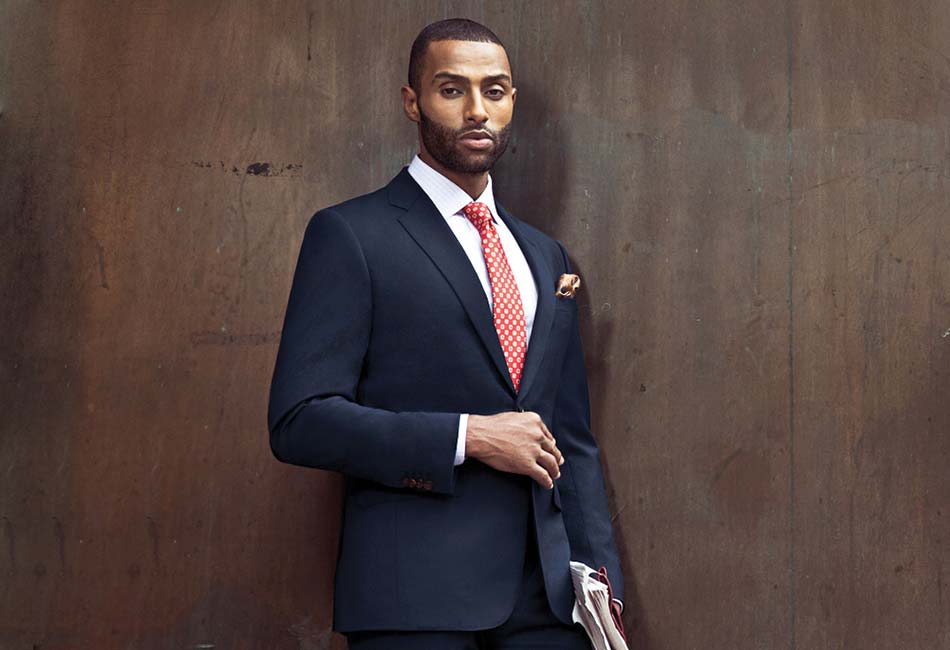 Was this your first Compass article, too?
If so, we hope you enjoyed the read and we encourage you to Subscribe to our Compass Newsletter for even more advice on looking and feeling your best.
---
Like What You See? There's More.
We'll send you style advice and intel for the modern man.
---