Vest and Suit Button Rules- The "Must Follows"
Published on September 30, 2013
Suit vests. They're not as common as they once were, but are still one of the most stylish articles of men's clothing. 
In this post, we're going to cover everything you need to know about suit vests, including vest and suit button rules. From black-tie rules to blue tuxedo rules, I've covered the many nuances of men's style. Luckily, there aren't that many rules associated with wearing a suit vest, but there are still a few that you should know. 
We are going to cover these rules and everything else you need to know about suit vests in today's post.
Let's get into it.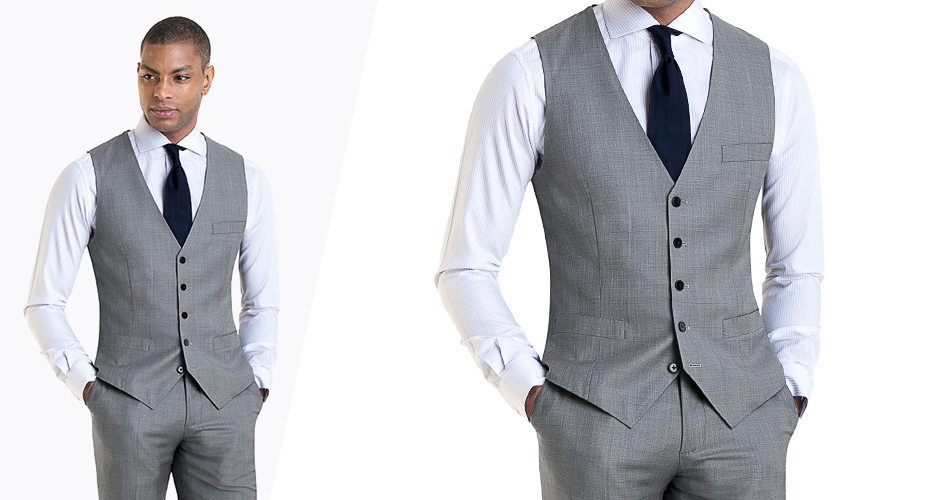 Suit Vest vs Waistcoat: Is there a Difference?
The main difference between a suit vest and a waistcoat is in the name. In the United States, we refer to the garment as a suit vest. Conversely, in the United Kingdom, they call it a waistcoat. Both are sleeveless garments that are worn on top of a shirt. 
That said, some will say that a waistcoat is more formal than a vest. By this definition, a waistcoat is what you would see as part of a three-piece suit, whereas a suit vest is what you would see over a button-down shirt.
In this guide, we use the two terms interchangeably.
Vest and Suit Button Rules – The "Must Follows"
These tips will help you wear that suit vest with confidence and style, whether you are wearing it in the office or for your friend's wedding. 
Buttoning Your Vest
We're not big on rules, but we stand by the "never button the last button" rule. Vest or no vest, buttoning the bottom button will make you look like a rube, plain and simple. 
If you do have a vest on, the bottom button on the vest ought to remain unbuttoned as well. To learn how to wear a vest casually solo, read here.
Suit Buttoning Rules With a Vest
When it comes to the rule of buttoning your suit when you're standing and unbuttoning when you're seated, you have a bit more leeway.
When you're seated, definitely unbutton it. Sitting with your jacket buttoned puts unnecessary stress on the button closure, which in turn can lead to potential garment disasters. Adding a vest to the mix will only put more strain on the button, causing an odd pulling in the chest and through the back.
When you stand, if we're speaking proper formality, button-up. On the other hand, a three-piece suit with the vest buttoned and the jacket open can exude a nonchalance that looks pretty boss (see the above photo).
How Should a Suit Vest Fit?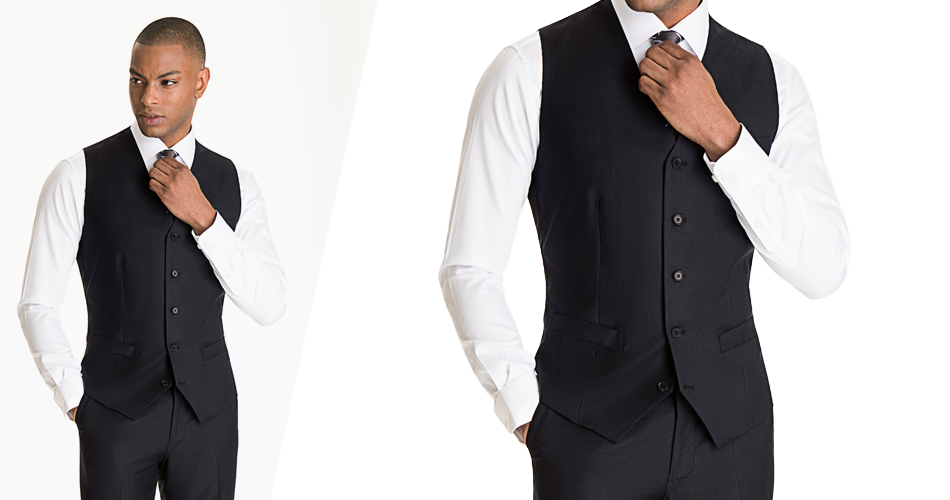 Knowing how a suit should fit is one of those essential things that every guy should know. This is especially true when it comes to your suit vest. A well-fitting vest completes the outfit, whereas a poorly-fitting one ruins it. Because of this, we highly suggest getting a suit vest that is fitted specifically to you. 
Here are a few things to look for:
The Body
A suit vest is meant to be worn close to your body. It should be slim fitting to accentuate you, but should not be too tight so that you look like you're bursting out of it. It looks best when it is slightly tapered at the waist. 
Also, there is ideally an adjustable buckle at the back of your vest to allow. This allows you to tighten or loosen the vest as needed.
The Length
Getting the right length suit vest is key to it looking like it fits well. Luckily, it is pretty easy to tell if the length is correct. In short, the vest should just cover your waistband and not show any of your shirt underneath it.
How To Choose The Right Suit Vest 
You want a suit vest that will last you for years. So, when buying one be sure to look for one that is both versatile and well fitting.
Here are 6 essential tips to remember when buying a men's vest:
#1: Stick With The Same Material
Choosing a waistcoat with the same fabric as your suit best. Otherwise, your suit ensemble will have an eclectic and unflattering appearance. So select a wool vest if your trousers and jacket are made of wool. If the rest of your suit is linen, grab a linen vest. Etc. 
#2: V-Neck Opening
The neck hole or opening is important because it determines how the vest material will cover and fit your body. Ideally, it should cling to your body, especially around the back of your shirt's collar, without riding up or without creating any gaps. A v-neck opening helps to enhance your suit, and allows your dress shirt collar to show more visibly.
#3: Color-Coordinate 
The vest usually matches the color and material of the jacket and pants. For example, choose a darker vest color if your suit is black or any darker shade. If you have a patterned suit jacket, your vest should also have matching patterns. If it's a black-tie event, your three-piece suit set, including your vest, should be all black. 
All that said, you also can opt for a vest color that contrasts with your suit as long as it follows the color wheel. For example, a light gray vest goes well with a royal blue suit set.
#4: Watch The Length
As we mentioned above, the vest length is super important. Ideally, it should cover your waist and fall about an inch below the waistline of your pants. Your shirt underneath should never peek through the vest. If this happens, it means your vest is too small.
#5: High-Quality Buttons
Your waistcoat will usually have an odd number of buttons. However, this may depend on your height. A standard 5-button vest may not look good on men taller than 6 feet. In this case, a 7-button waistcoat is more suitable.
Button quality matters. Good-quality waistcoat buttons are usually made with embossed metal such as silver, brass, or mother of pearl. Ideally, they'll be made of natural materials. Buttons made of cheaper materials may easily fall off and will generally break down more quickly.
#6: Check The Pocket
Nicer vests will have a working pocket. These are often sewn shut with tack stitching to help the vest keep its shape. When you take your vest home, snip the threads to open up the pocket. Also, avoid placing bulky items in your suit pockets as it could affect your vest's shape.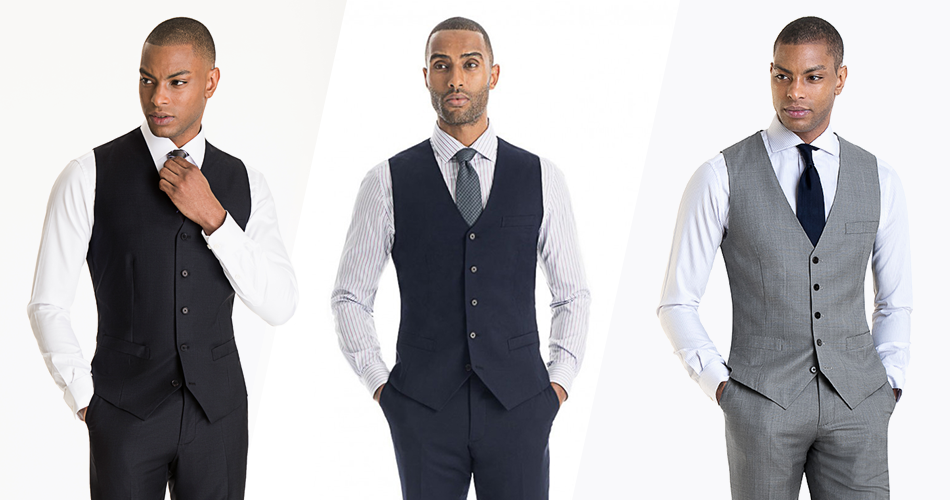 Frequently Asked Questions
There are many nuances surrounding suits and suit vests, and as a result, most guys have many questions about them.
Here are a few of the most common questions about suit vests:
How do I clean a suit vest?
If you want your suit to last, you need to know how to clean it. To clean your suit vest, we recommend getting it dry cleaned.
Make sure to hang your suit vest properly to prevent wrinkles. When it does get wrinkled, use a suit steamer set on low. Never iron your suit vest, especially if you are unsure of the right temperature to use.
Should the vest match the pants?
Should you match your vest to your jacket and trousers? Yes and no. They do not always need to match, but they look extremely stylish when they do. If you are planning on getting only one suit vest, I recommend getting it to match your suit. This way, you always have one three-piece suit option. Not matching the vest to the pants creates a notably more casual look. If you're interested in this type of look, we wrote a whole guide on how to wear a suit vest casually.
Can you wear a vest without a jacket?
The short answer is yes. A vest without a jacket can look great on its own, but I would suggest avoiding a vest made of a shiny material. When wearing a vest without a jacket, it is even more essential that it fits well (see guide above). 
Can you wear a three-piece suit without the vest?
A 3-piece suit, which includes the vest, is a more dressed-up alternative to a 2-piece suit ensemble. You can also wear a suit without a vest, but it's no longer considered a "3-piece suit".
More Interesting Articles on Men's Style
Looking for more great articles on dressing well? We've got you covered. Here are some of our favorites:
Wear the perfect navy suit with this guide on the best

navy suits combination

for your next special occasion.

Are black shoes the only best choice for formal attire? Learn about the

7 types of dress shoes for men

to match wth your sleek suit ensemble. 

These tips on

how to wear a vest casually

will help you wear a suit no matter what the event is. 
Conclusion
Wearing a suit vest is a great way to stand out and look dapper. Wear it casually or wear it with a 3-piece suit, either way you'll look great. Just be sure to get one that is high quality and that is designed to fit your body.
---
Like What You See? There's More.
We'll send you style advice and intel for the modern man.
---