Belt Alternatives: Side Tabs & Suspender Buttons
Published on February 3, 2013
Q: "Ever since discovering custom tailored suits, I've warmed up to the idea of forgoing the belt. Still, I feel a little awkward wearing suit pants with empty belt loops just hanging there. What are your thoughts on not wearing a belt on suit pants with belt loops?" – George M.
A: As Glenn O'Brien once aptly put it, "empty loops look so lonely and useless." And he's right, empty loops can look as if a vestigial organ of your wardrobe has just been removed. A part of this has to do with the fact that most of us have been taught that belts are the "anchor" of the wardrobe, a necessary element to a suited outfit. In reality, a belt should be thought of more of as an accessory rather than a necessity. Now before you yell "blasphemy!" in disagreement, let us quickly explain: suit pants (or all pants for that matter) should sit on your waist without the need for a belt and therefore, a belt should never be a band aid for wearing baggy or ill-fitting pants.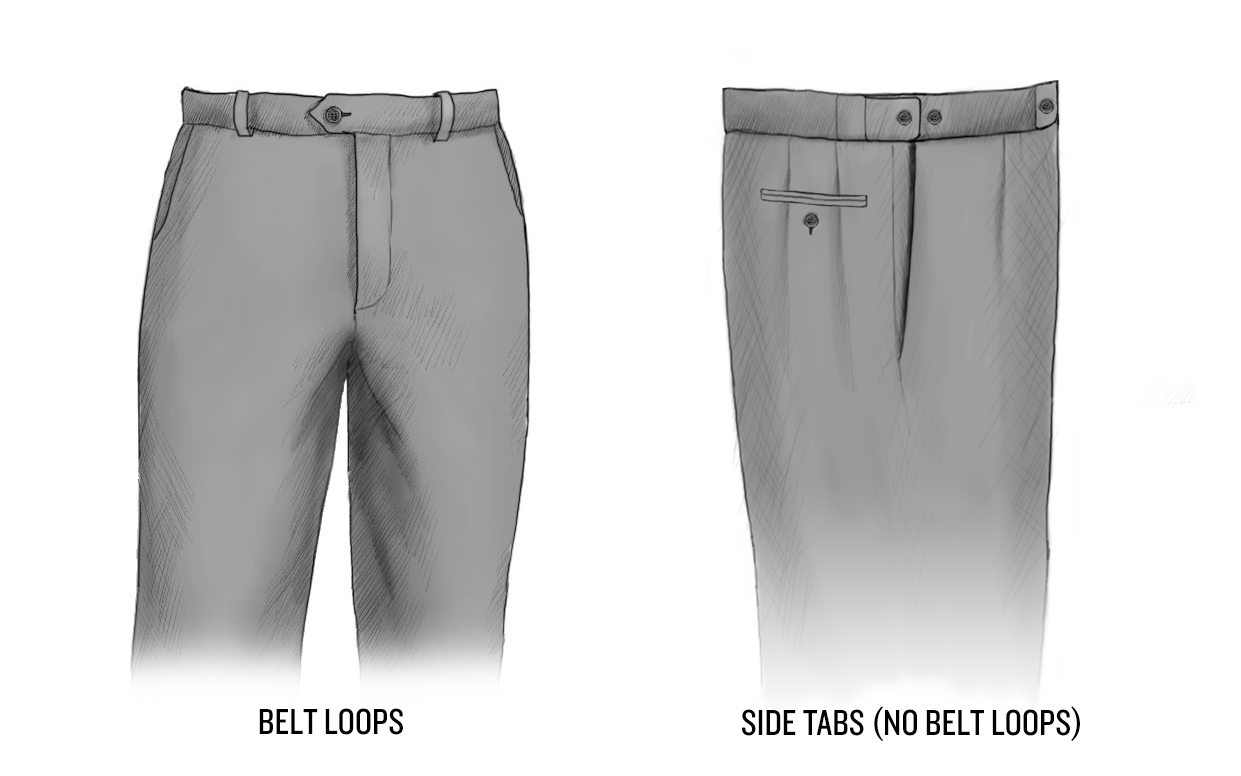 As for the lonely belt loops, one way to remedy this is by having them removed by a tailor and having side tabs added. Side tabs are essentially mini-belts made of the same suit fabric, attached on each side (see the diagram above). Side tabs can be easily adjusted on the go and help you stay comfortable after a meal. Just make sure he has the matching fabric to add the tabs (you may have to provide the fabric). The easier option is to have your pants made with them in the first place in lieu of belt loops when you order one of our custom suits. Just don't try to be too ambitious (or indecisive) and get both belt loops and side tabs. This just defeats the whole purpose of having side tabs.
Another option, for those who feel inclined to channel some Gordon Gekko or Oscar Wilde, is to go for suspender buttons and pick yourself up some suspenders (also called "braces" by our friends across the pond). Why suspenders? According to the venerated tailor Alan Flusser, properly worn suspenders allow the pants to be hung from the shoulders rather than the hips, creating a completely different drape and fluidity to the look. So if you're looking for a little more support from above, opt for the suspender buttons. The great thing about suspender buttons is that they're on the inside so they're discrete and you don't feel them. Opt for the button-type suspenders as clip-on versions can snap off and cause needless embarrassment. Suspender buttons will double with your side tabs for a pair of functional and stylish alternatives to wearing belts.  Suspender buttons and side tabs are available as an advanced customization option in all of our suit pants (no additional charge as always)!
Hope this helps! Got any further questions on side tabs or suspender buttons? Leave a comment below! 
---
Like What You See? There's More.
We'll send you style advice and intel for the modern man.
---