How to Wear a Scarf
Published on November 1, 2019
Not exactly sure how to wear a scarf? There are many ways to tie a scarf, and in this post, we're going to show you them all.
We've talked about the importance of a scarf many times on this blog; from our post on ways to look sharp this Thanksgiving, to our post on adding color to a wintry mix. They're extremely versatile and have a wide range of different uses.
And the best part about them is that by simply changing the way that you tie them, you can completely transform your outfit and look.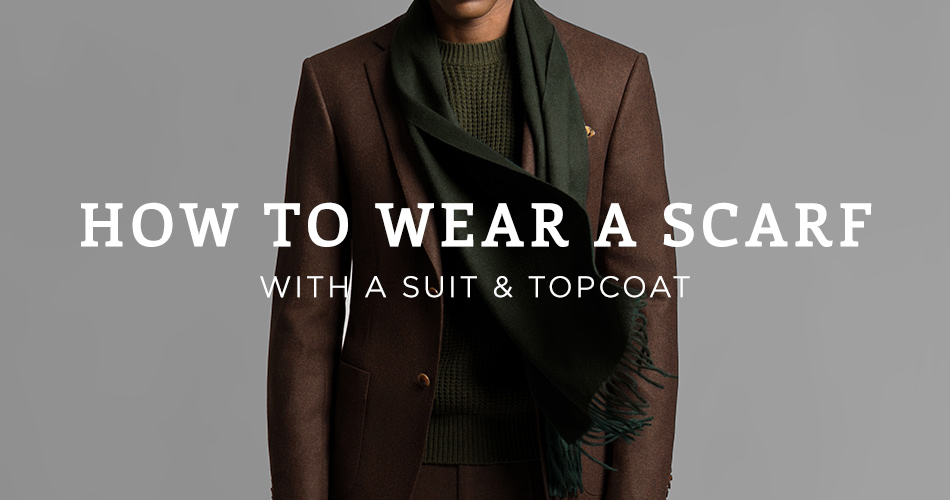 What, Exactly, Is Categorized As A Scarf?
A scarf is a length or square fabric worn around the neck, head, or shoulders. 
Commonly, they're used to keep warm from cold temperatures and drafts, but they can also be worn as an accessory. They are made from a variety of materials from cotton to cashmere.
You know the love/hate relationship we have with winter. We love donning our warmest suits and topcoats , but we hate the icy, windy and outfit-slicing cold. Luckily, learning how to wear a scarf for men is easy, and when you wear a scarf with a suit and topcoat, you might fall into the love side of this relationship.
Some men don't know how to wear a scarf because, quite frankly, they hesitate with an added responsibility. Let us convince you to give it a shot. The scarf is your winter best-friend because sometimes even the thickest of fall fabrics could use a splash of, well, more wool (and color). We'll show you four different ways to wear a scarf with a suit and topcoat with step-by-step instructions so your neck can stay warm and stylish all winter long.
Before We Start…
Hold up. To ensure that you'll be able to properly wear a scarf with a suit, make sure the scarf you choose is 60 to 75 inches long and is open-ended (not like some infinity scarves that has no 'end' point". Also, keep in mind that some of the scarf knots below will be tougher with thicker and coarser wool scarves.
---
1. The Slip Knot
This scarf knot has some major cold-stopping power. It's also easy to put on and take off, so your co-workers won't think you're trying to strangle yourself as you head out of the office in your suit and scarf.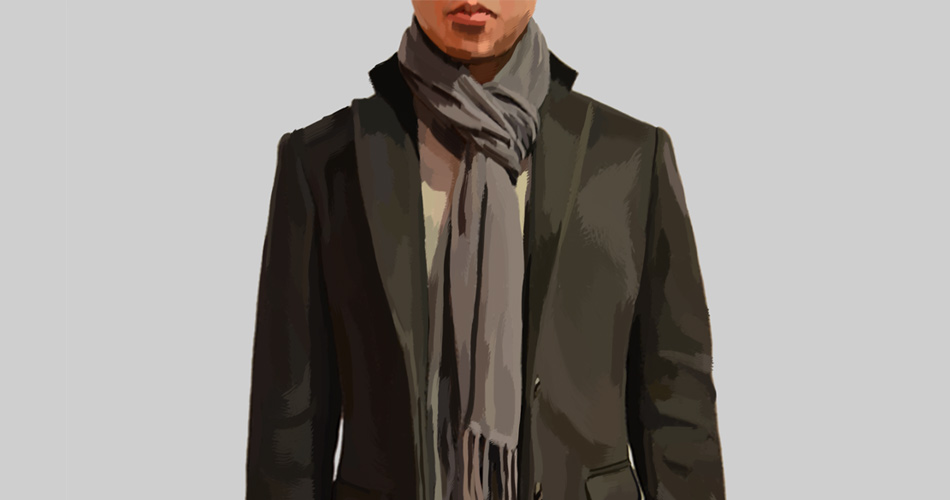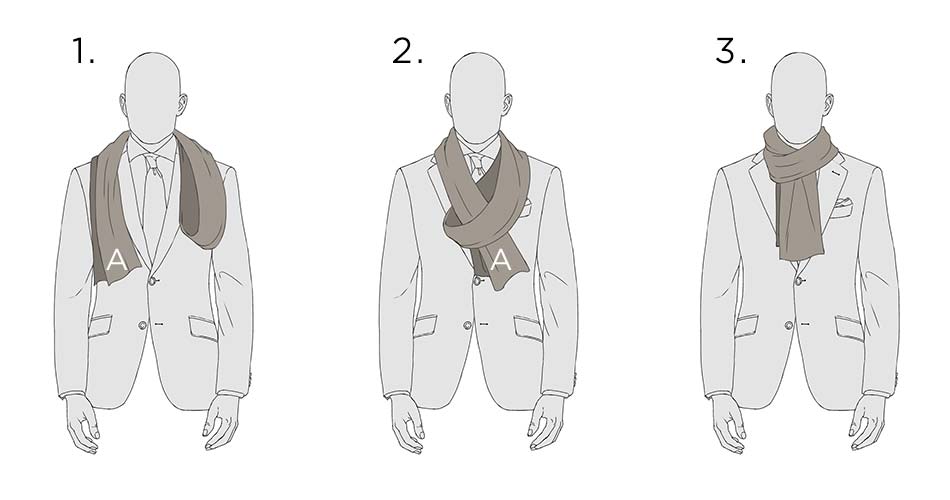 Step 1: Fold the scarf in half lengthwise and then fold it again to form a sort of hoop.
Step 2: Let the scarf dangle around your neck with the hoop on one side of the shoulder.
Step 3: Take the other end (A) and bring it towards the hoop.
Step 4: Let A pass through the loop.
Step 5: Tighten the loop to get the complete effect.
When to wear: Cold weather
Scarf length: Medium
---
2. The Wrap-Around
The wrap-around scarf style is easy to accomplish as you're rushing around the city, constantly going indoors and out. Tuck the ends of your scarf into your suit jacket or topcoat to keep out any cold drifts.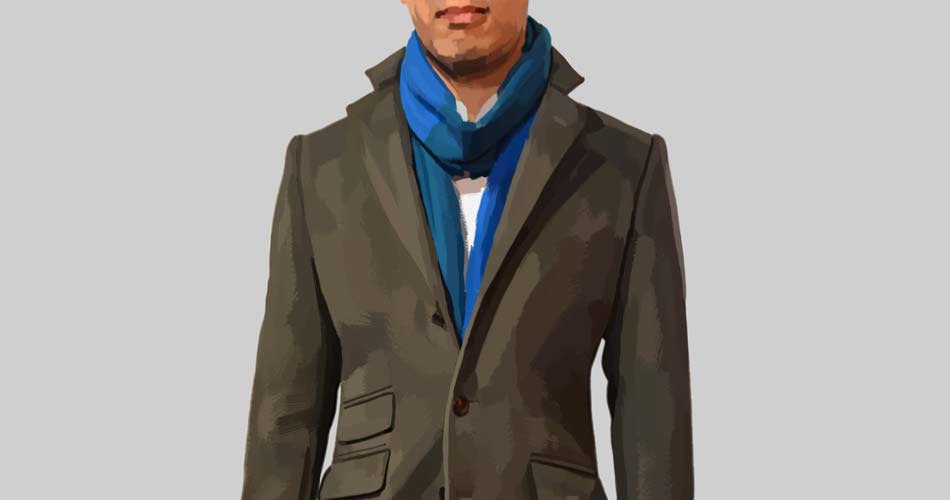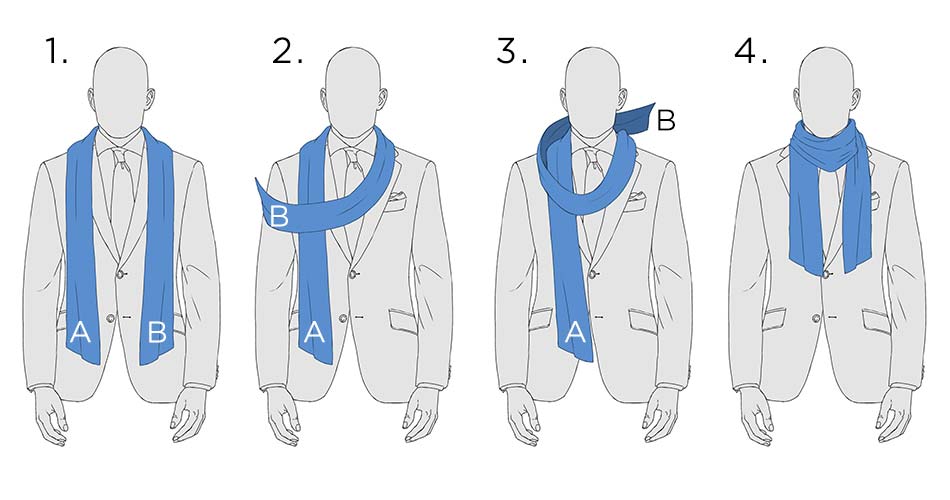 Step 1:

 Drape the scarf around your shoulders and let it hang around your neck equally on each side.

Step 2:

Bring one side (B) towards the other side (A).

Step 3:

Let B pass over A and wrap B around the back of your neck to the other side.

Step 4:

Adjust both ends to the desired length.
When to wear: Cool weather
Scarf length: Medium
---
3. The Shoulder Toss
This OG "knot" is a classic way to wear a scarf for men, but it doesn't do too well in windy conditions (unless you enjoy constantly readjusting).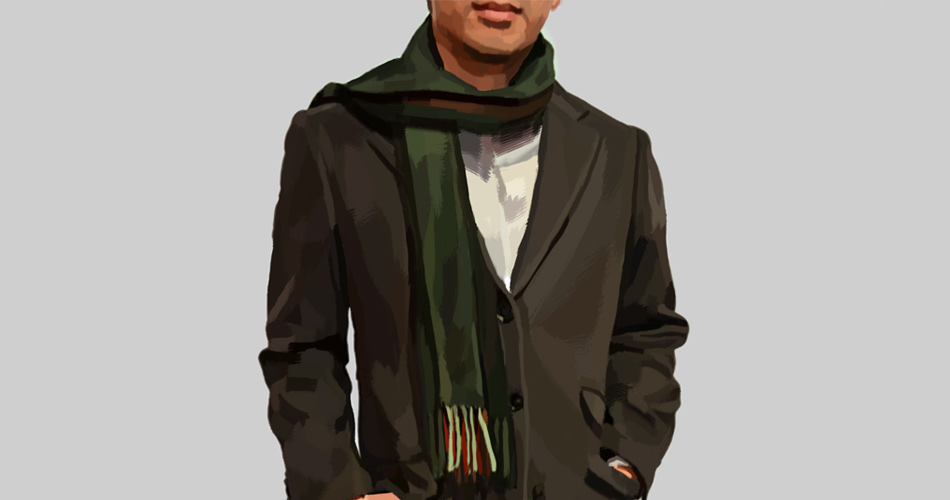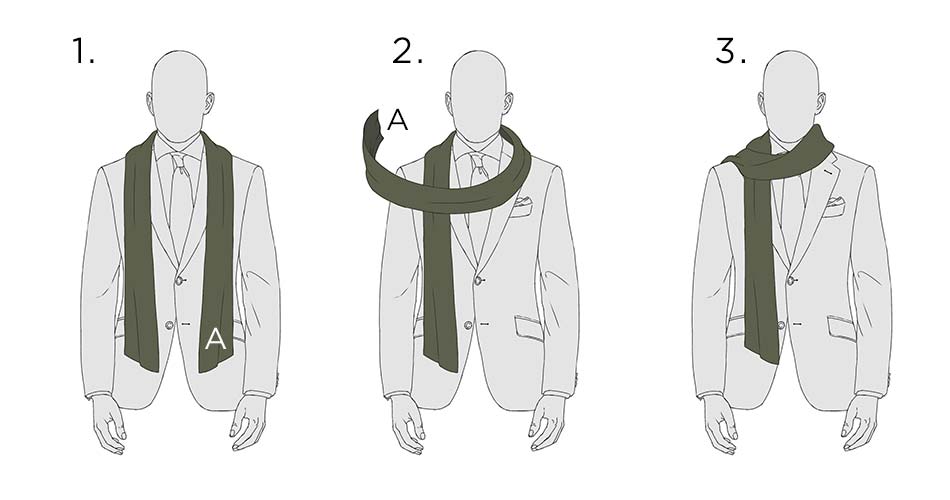 Step 1:

Drape the scarf over your shoulders and let it hang around your neck equally on each side.

Step 2:

Take either side (in this case, A), and toss it over your opposing shoulder. Adjust to desired length.

Step 2a:

[optional] Brush your shoulders off mid-toss.
When to wear: Cool weather
Scarf length: Medium
---
4. The Ascot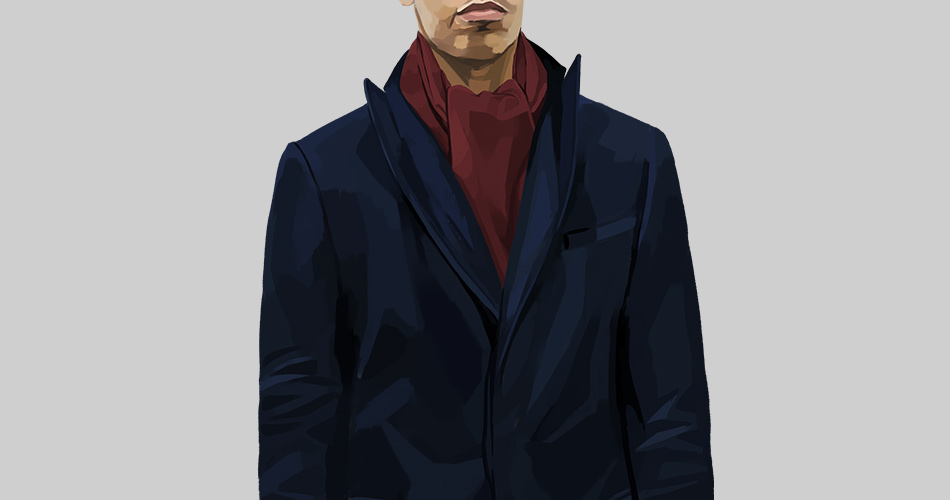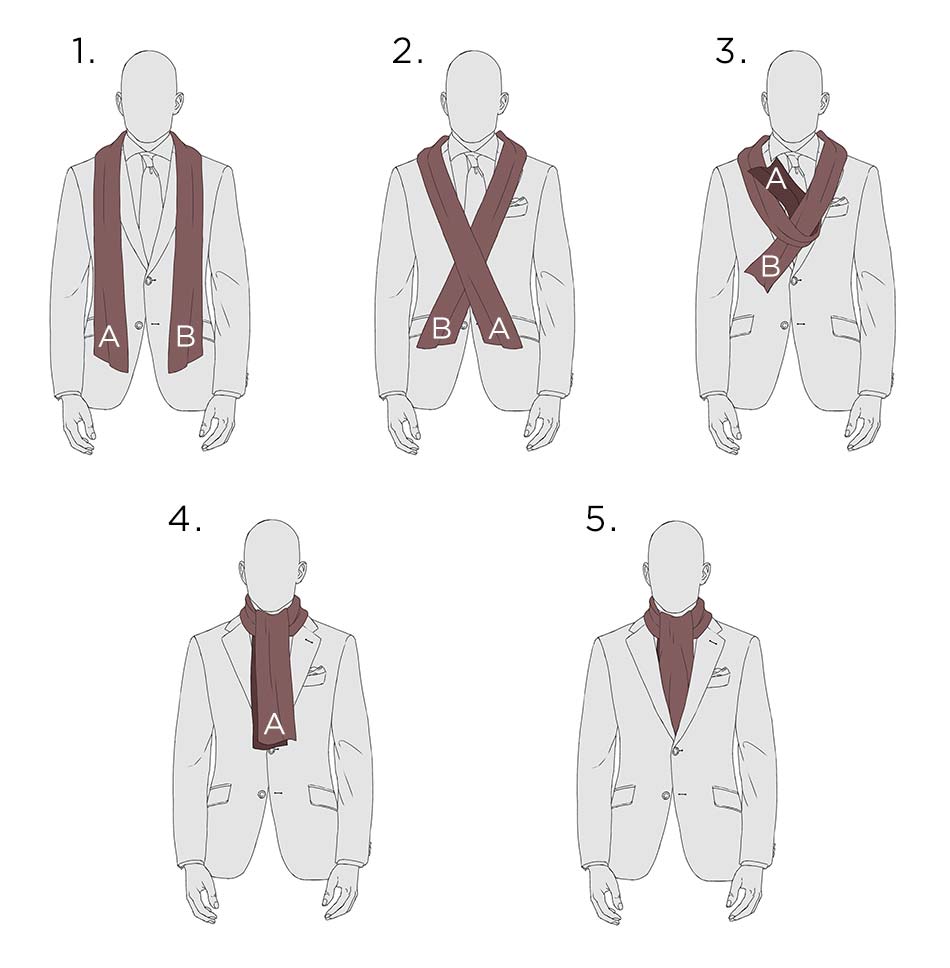 Step 1: Drape the scarf around your shoulders and let it hang equally.
Step 2: Take point 'A' and cross it over point 'B'
Step 3:

Pull point 'A' through the opening formed by the cross (try to flatten it out as you pull up and over) and adjust to even out the lengths of both points.

Step 4:  Adjust the knot as needed, tuck in below your jacket lapels.
When to wear: Cold weather
Scarf length: Medium
---
5. The Infinity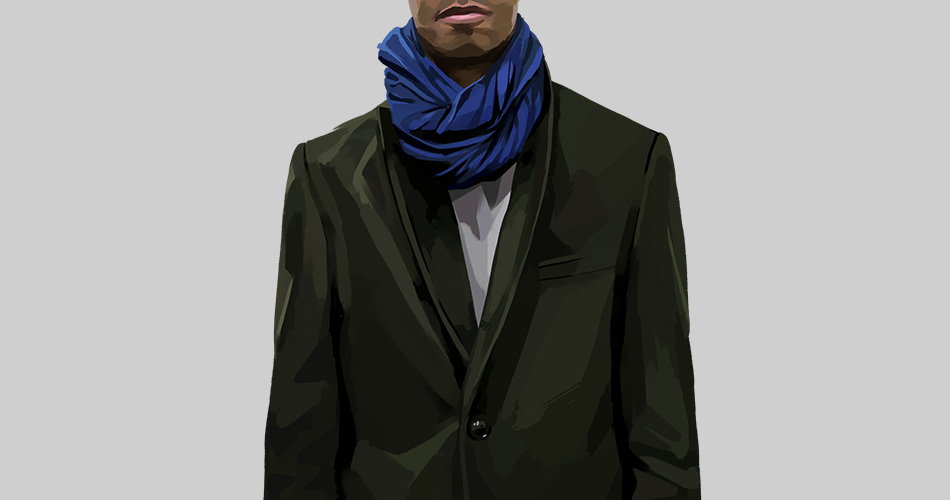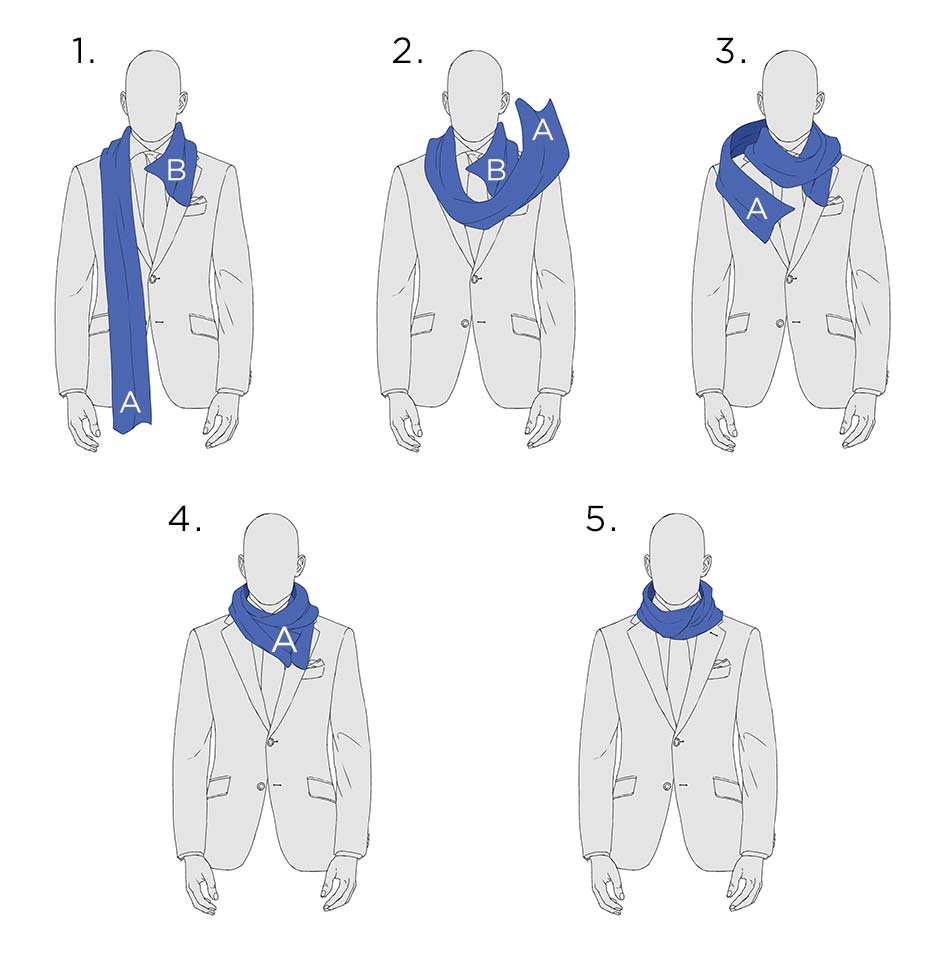 Step 1: Drape the scarf around your shoulder, ensuring that point 'A' is longer than point 'B'. 
Step 2: Wrap point 'A' around point 'B' 
Step 3: Continue wrapping until you run out of length, tuck ends in. 
When to wear: Freezing weather
Scarf length: Medium & Long
---
6. The Tuck-In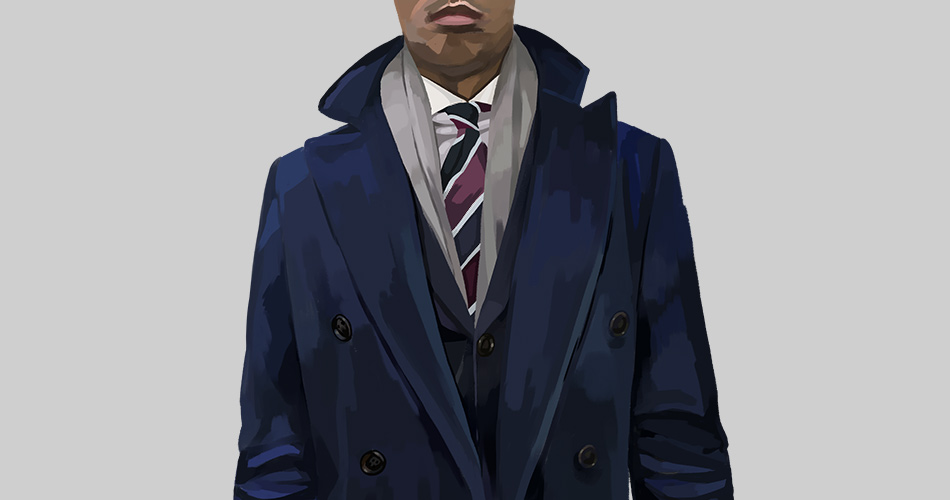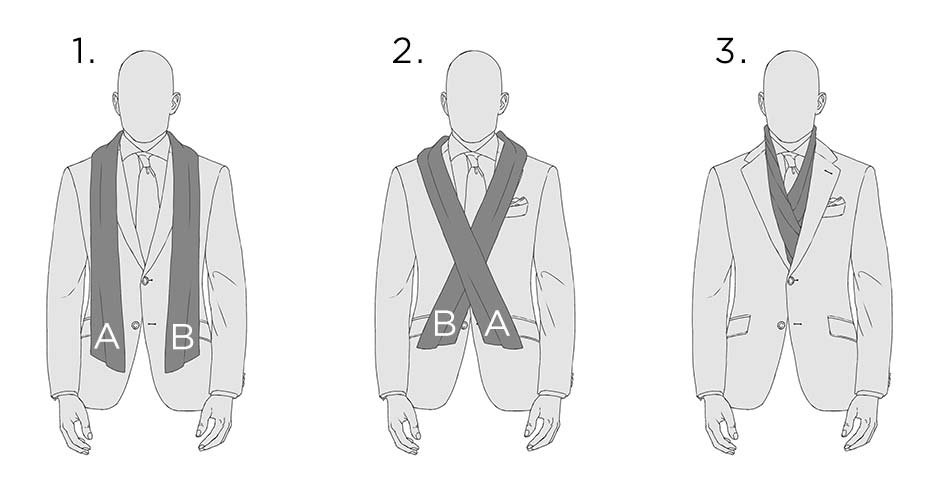 Step 1: Drape the scarf around your shoulders at equal lengths.
Step 2: Cross point 'A' over point 'B' 
Step 3: Tuck in!
When to wear: Cool weather
Scarf length: Short & Medium
---
7. The Classic Drape
For the man who prefers a simple look, can't be bothered to tie or untie knots and probably wears loafers year-round. This suit and scarf combination doesn't offer much cold protection and really only looks good with your jacket open. But hey, it's simple and some guys like simple. (we listed six others… don't be mad ?)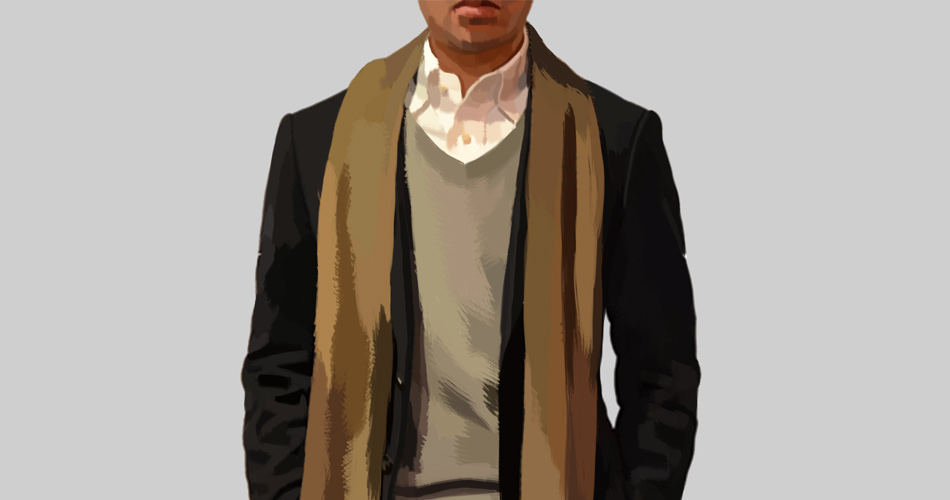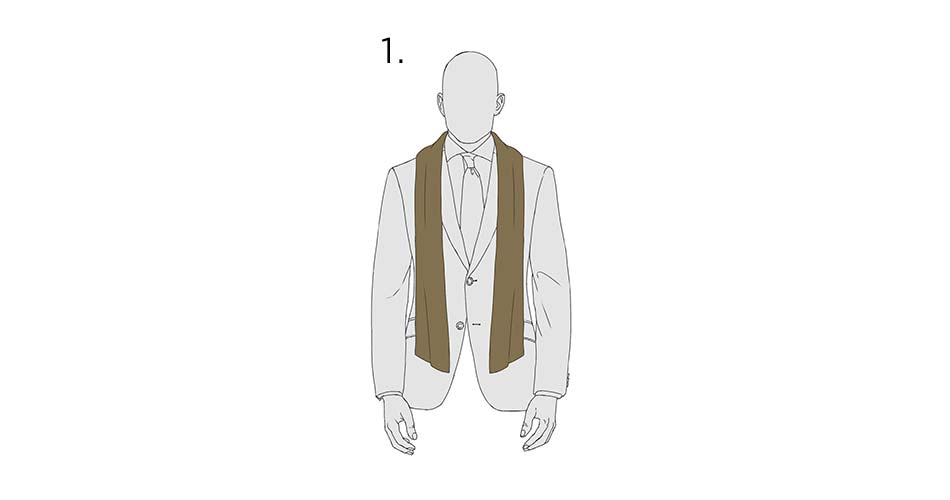 Step 1: Fold the scarf in half lengthwise and let it hang around your neck equally on each side
When to wear: Cool weather
Scarf length: Medium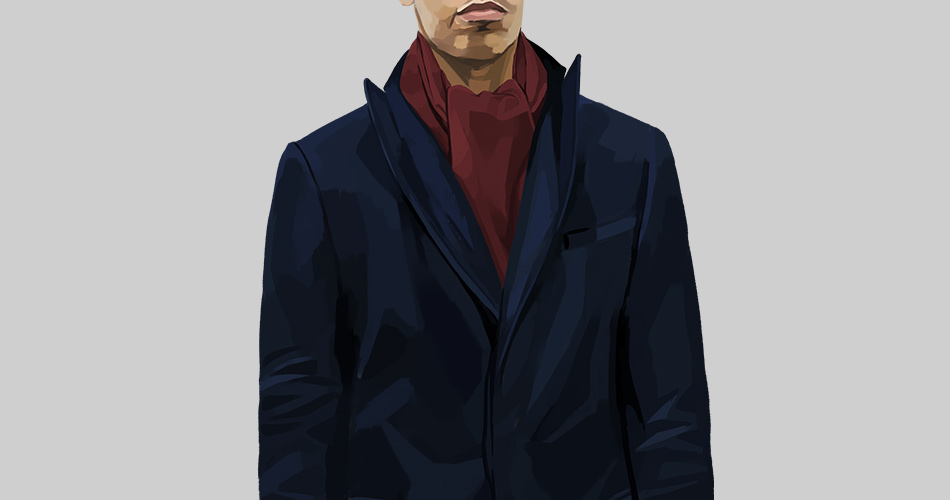 Men's Scarf 101: Simple Rules of Wearing A Scarf With Style
Whether you're trying to pull off square scarves or a neckerchief, there are some simple rules to follow to ensure you're always looking your best.
Here are 5 simple rules:
1. Keep it simple.
Let's face it; not everyone is Lenny Kravitz, who can pull off being engulfed by an oversized scarf that arguably is more of a blanket. Keeping it simple with the right scarf keeps you looking fashionable. Leave the flashy, bulky scarf for special occasions. Opt for a lightweight scarf and practice scarf tying.
2. Keep it masculine.
Men have worn scarves for millennia and, in the past, scarves even determined military ranking. Scarves are functional and should look like it. Whether you're wearing a casual outfit or business attire, choose scarves that keep your style masculine.
3. Consider the weight of your scarves.
Choosing the right scarf takes a bit of common sense. Don't wear a full winter scarf or a thick chunky scarf in October. Not only will it get too hot being draped around your neck, but it will also look like something is off.
4. Don't be afraid to wear them.
Pull out the scarf that has been stuffed away in the back of your closet. A silk scarf, a fake knot, or a scarf drape are easier to execute than you may think. Embrace the change they bring to an outfit. Play with patterns, contrast colors and fabrics, and learn to layer, knot, and style.
5. Don't use pins.
You often see pins when scarves are worn around the neck or when they're used as a hair accessory like a tie for a ponytail. But while pins are fashionable for women's scarves, they don't look great with men's scarves. You have lapels on your coat and jacket, use that instead.
How To Spot The Best Quality Scarf?
Money doesn't mean quality. Scarves can be affordable, including those made of more expensive fabrics like cashmere and silks. But distinguishing good quality from the bad can be tricky. 
That's why we've given you some tips to differentiate good scarves from the bad:
1. Check the seams.
You don't need to be a seamstress to judge the edges of a scarf. Check if there is pulling or unintentional fraying at the seams. Do the fibers' edges look raw, as if they will soon break down? Do the edges have a clean finish or are there a lot of loose threads?
2. Learn to identify low-quality materials.
Some materials you can identify by touch, whether they are artificial or natural. For example, synthetic fabrics are rougher than silk, whereas natural silk's texture is very soft and non-sticky. With cashmere, if it's rubbed against itself, lower grades pill easily. Just by running your hand over the fabric, you should notice straight away if wads of fibers have already started forming.
3. Judge both sides of your scarves.
While there might be both color and style variations on the underside of your scarf, good-quality scarves should be as rich in color and texture both front and back. Bad quality scarves usually have distinctive "backs" lacking color or patterns. A good quality scarf should be great visually equal on both sides.
Men's Scarf vs. Women's Scarf: 3 Differences
The main difference between men's and women's scarves are their designs and length, but mostly they are unisex fashion accessories. Where they can differ:
#1: Color and Design
It is much easier for women to pull off a more masculine design than vice versa. For example, shepherd's check or gun club patterns are classic in menswear, but women also often wear these designs. Most guys will avoid 'cutsier' patterns like printed hearts or cupcakes.
#2: Length and Width
Traditionally, men's scarves are longer and wider than women's. That said, that has slowly been changing and evolving in recent years. Men are starting to choose more casual, simple scarves of average lengths and widths, probably to be able to tie a more stylish knot.
#3: Materials
This is mostly personal preference, but many women's scarves are made of more delicate materials, like silk. Conversely, a classic scarf for men is more likely to be a solid color cashmere/wool scarf, like our wool scarf.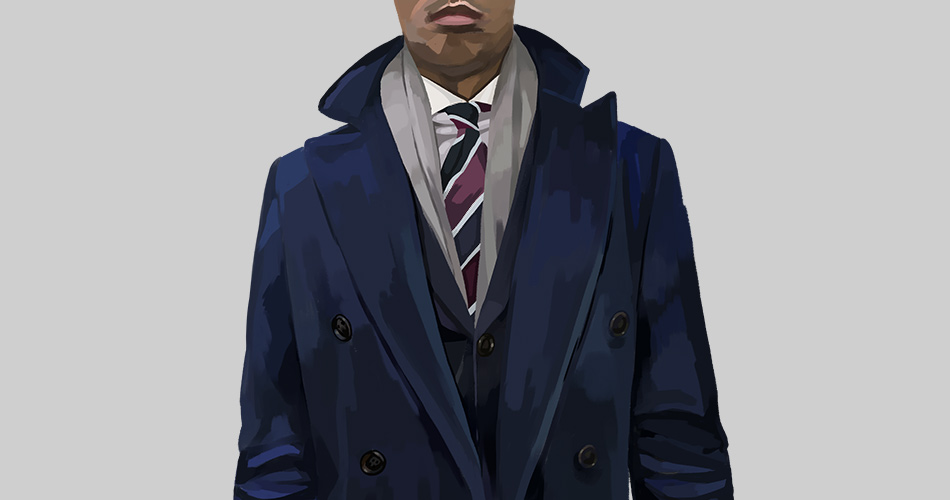 Frequently Asked Questions
Still have a question about scarves? We put together this helpful FAQ section to answer some of the most common questions surrounding them.
Why would you wear a scarf?
Scarves were originally created to help protect us from various types of weather. Not only can they keep you warm, but they can also shield your face from sunburn or a sandstorm. In modern times, they can even double as a last-minute face mask.
Utility aside, scarves also help men everywhere look more stylish. They are one of the few accessories that we as guys can wear, and the right scarf can create or complete a look.
Should your hat match your scarf?
Sure. It is an easy option and an almost fail-proof choice (as long as both are matching solid colors). If they are patterned, you want to ensure they still complement your outfit as a whole. Differing designs of your hat and scarf can be pulled off, but it's best they don't have too much contrast or clashing tones.
Is it manly to wear a scarf?
Scarves are a classic menswear piece and are very manly to wear. When worn right, have a way of making your outfit look structured and put together.
Are scarves still in style?
These are a staple for winter and colder months and are a practical must-have. While a certain pattern, knot, or fabric may go out of style, scarves themselves are timeless. 
What is a shemagh scarf?
Shemagh scarves, also known as the keffiyeh or Arab scarf, are versatile, soft woven cotton cloths, similar to heavyweight bandanas. They're ideal protection from weather like extreme heat, wind, dirt, and cold temperatures.
Can you wear a scarf for business casual?
If you check out our business-casual guide, you'll see a blazer is key for pulling off that modern, sleek business-casual look. And scarves are a great addition to a blazer. It adds extra style and elegance while having a subtle way of painting confidence.
More Great Style Guides For Men
Style guides are really helpful when you want to look your best or uspcale in the fashion department. We have a handful of style guides for men, and these are some of our must-reads: 
Scarves aren't the only fashion accessory you should try. Bracelets can look great, too. Whether you're headed to the beach or the office, we've got your wrists covered in this

guide to bracelets for men

A guide to wearing white all year long

is essential to make sure you continue to follow the rules of fashion, even after Labor Day. 

Prioritizing warmth doesn't mean sacrificing your style. This is one of the many essential lessons in our

seasonal suit and tie combination

.
In Conclusion
Knot to brag, but you now know how to wear a scarf the right way. A men's scarf is great at adding color to a wintry mix and can be the answer for ways to look sharp this thanksgiving. Start taking your outfits to the next level. 
Your neck deserves it!
---
---
Like What You See? There's More.
We'll send you style advice and intel for the modern man.
---