The 7 Types Of Dress Shoes You Need
Published on November 16, 2018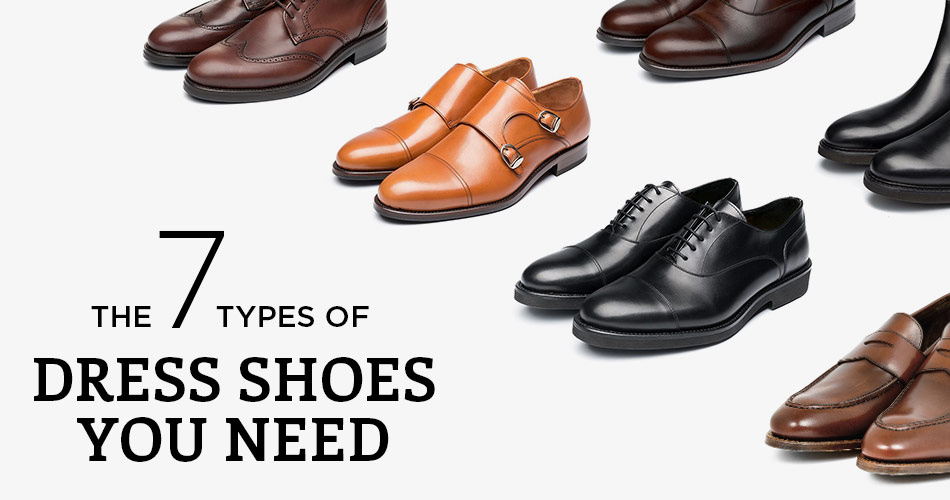 The Essential Types of Dress Shoes For Men
It can take time and money to build a well-rounded professional wardrobe, and that goes beyond getting a few custom suits. You need to be making smart investments from head to toe, including various types of dress shoes made with high-quality material.
Just like your suits, your dress shoes need to be built to last longer than your next fad diet attempt. Because of the unavoidable wear and tear factor that comes from the constant abuse shoes take, it's especially important to buy well-made dress shoes built with quality materials. Materials like 100% leather, and durable, well-constructed soles. Quality materials often go hand in hand with classic styles that won't let you down or have you on the wrong side of a trend. We're looking at you, square-toed shoes.
The fact is, bad shoes are bad news. The consequences of poor shoe choices can be more consequential than you may think: first impressions tarnished, job interviews scuttled, romances fizzled, the list goes on. Lest any of these grievous fates befalls you, please consider building your dress shoe collection to include these seven styles.
---
1. Black Cap Toe Oxfords
What are they
If you're in a professional office environment, you can probably look to your left or right and see a pair of Oxfords for reference. Oxfords, similar to the derby, are distinguished by closed vs open lacing (we won't go into that here) and are popular for a reason. They look classically handsome and allow for a secure and practical fit. The cap toe refers to the fact that the leather across the toe box is sewn on separately from the vamp (the mid portion of the shoe) and hence look capped off. This is likely rooted in the historical need to reinforce the toe box, but we think it's also just an attractive look.
Why we like them
If you're looking to own just one pair within our seven types of dress shoes, make it this black cap toe Oxford. It's the most traditional and versatile dress shoe style. They will work with any color suit you own, including a tuxedo. The look is classic, stylish and unimpeachable. And since this is your workhorse shoe, make sure you know how to take care of your shoes.
When to wear them
This is fairly straightforward. You can wear a pair of black cap toe Oxford dress shoes with just about any suit at the office or at a formal event. You can even wear them at a cocktail party or on a casual date with dark jeans and a dress shirt/sweater combo (brush up on how to wear a sweater with a dress shirt). Lastly, you can wear these at a wedding, but we would suggest you wear a black patent leather shoe if you can. If you don't know what those are, we talk about them below.
---
2. Brown Cap Toe Oxfords
What are they
The only difference here is the color, but because a good cap toe Oxford is so versatile, it's definitely worthwhile to get a second pair in brown. Just as elegant as the black, a brown cap toe provides a nice alternative for different color combinations, this will also give your black Oxfords a minute to breathe.
Why we like them
As we've touched on, we particularly like Oxford dress shoes because they are the easiest to wear. With a brown pair, they look particularly good with a staple gray or blue suit, which makes your morning wardrobe decisions that much easier.
When to wear them
Just like black oxfords, brown is suitable for almost any formal event. You can lace them up for a job interview, to a nice restaurant, or at any of your grueling business meetings. The only situational difference between the black and brown is that you can't try and make these work when a strict black-tie dress code is in place.
---
3. Light Brown Monk Straps
What are they
Monk strap dress shoes offer a stylish alternative to the traditional lace-up. They can come in a few varieties: single, double and triple. Just so we're clear, we're not endorsing the triple buckle in any way shape or form. A triple buckle makes the shoe look overcrowded and tacky. If you're going to pick between the three, a double monk strap is the most traditional, and in our opinion, the best looking option.
Why we like them
A pair of light brown double monk strap shoes adds a touch of European charm to your dress shoe rotation. Not only that, but they're incredibly versatile. They can be worn in casual, business casual and business formal settings. And just like your brown Oxfords, these pair with any gray or navy suits/blazers.
When to wear them
Since these are one of the most versatile dress shoes, you can wear them in many situations. If you're in a casual atmosphere like brunch, these are great with a pair of dark jeans. Keep in mind that even though they can be worn casually, we wouldn't suggest wearing shorts with them. You can also wear these at weddings, first (and second) dates, and boardroom meetings. Though they can be worn in professional settings, you should never wear these with your most formal attire like tuxedos.
---
4. Brown Penny Loafers
What are they
Penny loafers are laceless, low cut shoes (exposed ankles) that differentiate themselves from other loafers by their slotted leather strip where a coin can be placed, hence the name. It didn't start with pennies, however. In the '40s and '50s, people wearing these shoes would actually place dimes in each shoe, equalling the amount for a single payphone call. It wasn't until the '60s that the trend of placing pennies took off and the name stuck. History aside, they're a great alternative to your traditional oxford or double monk strap shoes and bring new wardrobe varieties to the table.
Why we like them
Diversity, simplicity, and comfort. Their slip-on nature gives your foot some room to breathe and introduces a new and easy way to upgrade your business casual look. In a solid brown, they pair easily with your blue and gray blazers and are superb with casual looks like khaki linen pants, jeans and gingham dress shirts.
When to wear them
If you're a traveling businessman without TSA Pre, you should already know these are airport rockstars because of their slip-on quality. Furthermore, brown penny loafers work with almost any semi-formal occasion. At the tie-optional office, drinks with friends, or your simplest casual daytime events.
---
5. Brogued Wingtips in Oxblood
What are they
Let's break down the terminology for this shoe. The term 'brogue' characterizes the distinct decorative perforations — aka 'brogueing' — at the toe cap and along certain seams. Wingtip brogues are identified by their toe box design that creates a 'W' formation at the toe of the shoe (or 'M' depending on your perspective). And lastly, oxblood, well, it's just a really cool color.
Why we like them
We like these shoes because they bring some serious personality to the table. Unlike other traditional, solid dress shoes, the perforations in a brogue — whether minimal or wildly ornate — add an extra level of character and style that solid colored shoes just can't provide. However, this does add some situational limitations.
When to wear them
Amongst the other types of dress shoes, these are going to be your character shoes. Therefore they won't be appropriate at a black-tie event or funeral. More so, they're a date shoe and an even better business shoe. When paired with a dominating oxblood color and a 3-piece suit, you'll show everyone in the office that you mean serious business.
---
6. Black Chelsea Boots
What are they
Woah. Wildcard! Even though it's technically a "dress boot", we're leaving this on our list because this is one of our favorites. The Chelsea boot is an ankle-high boot with elastic panels on the sides and a finger loop on the back. The design dates back to the Victorian era, but the boot came back big time in Swinging Sixties London, and we don't see them leaving anytime soon.
Why we like them
Black Chelsea boots are not only incredibly comfortable, but they're aesthetically unique. They're hip, unpretentious and they add a bit of edge out on the town or in the business-casual office. We'll level with you fellow suit connoisseurs, Chelsea boots are a bit more difficult to work into your suit rotation, but you still have a lot of options, the best-being fall fabrics like flannel (read more about fall fabrics that work well alongside your boots here). Additionally, Chelsea boots work particularly well with your blazer and denim combos (make sure you're perfecting that look).
When to wear them
Because they're dress boots, they're certainly not advisable for all situations. Black Chelsea boots are for semi-formal occasions, like a night out on the town or in a business casual office environment. Overall, they work best if you live in a part of the world with four distinct seasons.
---
7. Black Patent Leather Oxfords
What are they
As we stated, your black cap toe oxfords are perfectly fine for a black-tie event, but these are the more traditional option for when you want to look as classy as possible. The difference with this Oxford is in the leather. Black patent leather is a variety of leather with a high-gloss coated finish. This adds that extra touch of savoir-faire and one final bit of polish to your look.
Why we like them
They complete your most formal events look like no other. If you already have black tie attire like an impeccably cut tuxedo or an ivory dinner jacket, patent leather dress shoes are an excellent complement.
When to wear them
These are the big dogs, consequently, you bust out your patent leather dress shoes when the dress code is nothing but the best, like when you're at the altar saying your vows, being blinded by paparazzi at the Met Gala, or when receiving your Oscar. (If so, congratulations are in order.)
---
Put Your Best Foot Forward
Above all, remember what we said before — bad shoe choices can be consequential. With the seven types of dress shoes we've listed above, there's an option for any situation, so put away the faux leather and step it up (literally).
---
Have any questions about the types of dress shoes out there in the world?
Drop it in the comment section below!
---
Like What You See? There's More.
We'll send you style advice and intel for the modern man.
---