5 Smart Casual Attire Elements: Wear Them With Style
Published on September 9, 2022
The smart casual dress code is most famous for its ample freedom of expression. But what else do you need to know about smart casual aside from the relaxed boundaries? 
As connoisseurs of men's suits and style, we've previously written on decoding the business casual dress code and how to be the best dressed man in a casual office. 
Now, it's time to break down the smart casual dress code and tell you how to rock it like a fashion icon.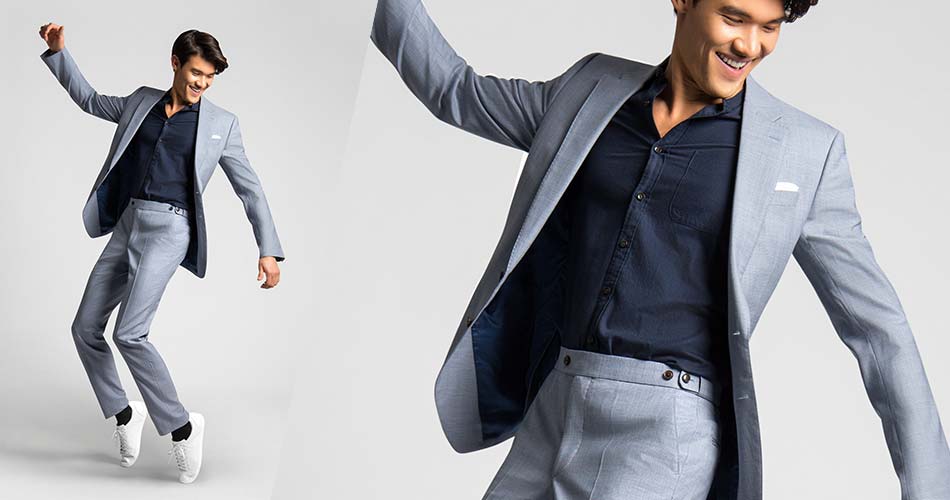 What Is A Smart Casual Attire?
Smart casual attire allows you to combine sophisticated business wear with elements of casual wear– think window pane shirts over button-down shirts, chinos over pleated dress pants, and casual leather shoes over black oxfords. The dress code leaves ample room for the wearer to express their personality and style with their attire. You're more than good to go if you can pull off an elegant and smart look without looking too formal. 
Smart Casual History
The origin of the smart casual dress code can be traced to the 20th century, when it designated an unconventionally colored lounge suit made from heavy fabric. The suit was perceived as casual due to its bright color and material, which defined informal business wear at that age. Gradually, the interpretations of smart casual became broader as the line between formal and casual wear faded. These days, the dress code represents a fusion between professional and casual wear, expecting people to appear formal while donning elements of casual wear.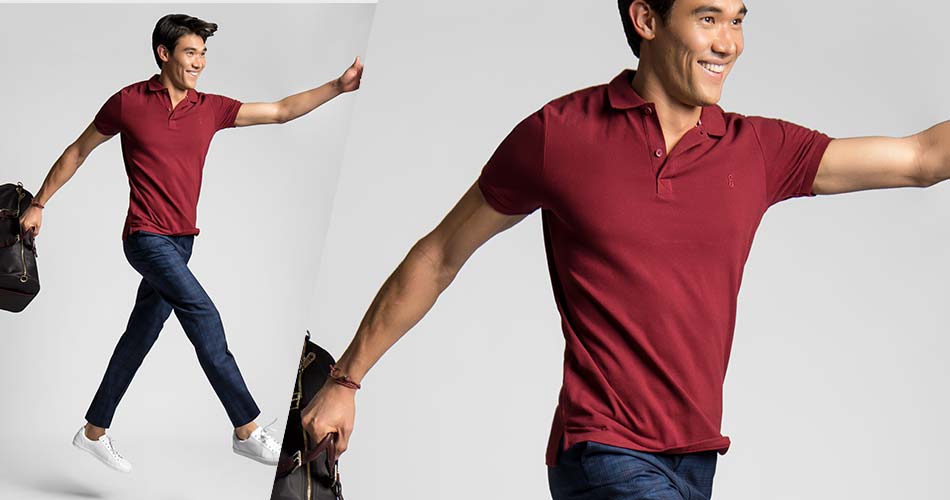 Smart Casual vs Business Casual Attire
The main difference between smart casual and business casual attire is that business casual is a more formal version of smart casual. In essence, while the business casual dress code intends to give a professional but less formal look than the traditional business look, smart casual wants to provide a relaxed look that's still business-like.
Usually, you can step down from business casual attire to smart casual by removing your tie, opting for a blazer or sports coat instead of a suit jacket, and substituting your dress pants with casual pants like chinos. If you're unsure what the business casual look entails, please read our ultimate guide to business casual outfits for men. 
When Should You Wear Smart Casual Attire?
As already mentioned, the smart casual dress code balances formal and casual wear, making it suitable for both professional and non-professional gatherings. The dress code can be further subdivided into: 
Informal Smart Casual 
The informal smart casual dress code is suitable for social gatherings that are not business-related. This could be a friend's birthday or a get-together at your sports club. The choice of what to wear is even more flexible as anything smarter than a tracksuit is acceptable.  
Formal Smart Casual 
Formal smart casual is closer to business professional- think jacket or blazer, chinos over jeans, a collared shirt, and smart shoes. It's what you'd wear to a relaxed social gathering of your professional circle, such as an after-work meeting with colleagues or an informal dinner at a professional conference. 
Smart Casual Clothing Examples 
Smart casual gives you as much freedom as any defined dress code, and your choice of what you'll wear ultimately depends on how expressive you want. You can freely combine colors and outfits that most other dress codes will frown at as long as you strike the right balance. So, it means no ties, pleated pants, or dark suits, and at the same time, sweatpants, tracksuits, and hoodies should be avoided. 
Here's a highlight of what's expected of each element of the smart casual attire: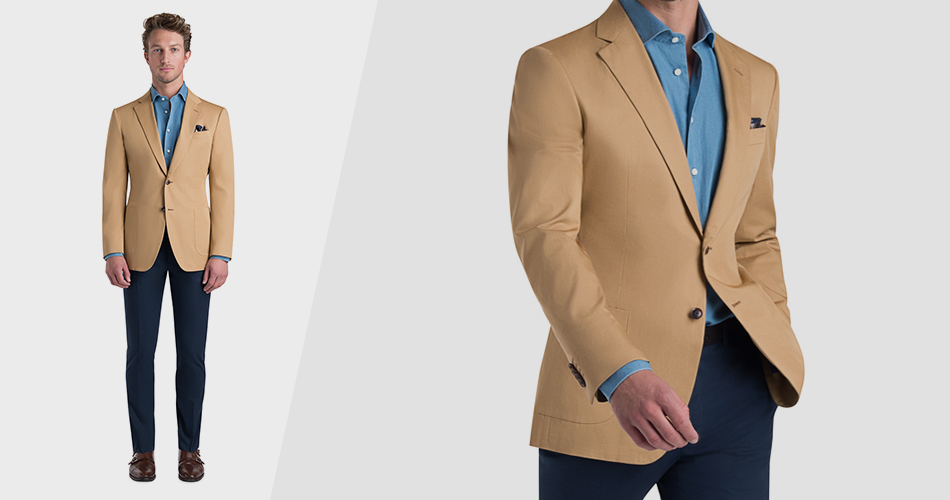 The Blazers 
Regarding your choice of blazer, we recommend going for elegant colors like grey or navy. However, we also agree that those colors may be too formal for some occasions, so other colors would do just fine as long as they're not clashing with other pieces. 
If you're feeling slightly adventurous, or when informal smart casual is the name of the game, you can go for other types of jacket such as a cotton Harrington jacket, linen jacket, or even a bomber or leather jacket. 
By the way, you can learn the difference between a blazer and suit jacket here if you've been struggling to differentiate between the two. 
Examples 
Here are two suit jackets we'd recommend adding to your wardrobe:
#1: Ash Gray Flannel Blazer 
You won't find many better winter companions than our ash gray flannel blazer savoy. Its light grey color and solid pattern ensure it blends well with everything in your closet, plus the wool flannel material is thick enough to shield you from the winter cold.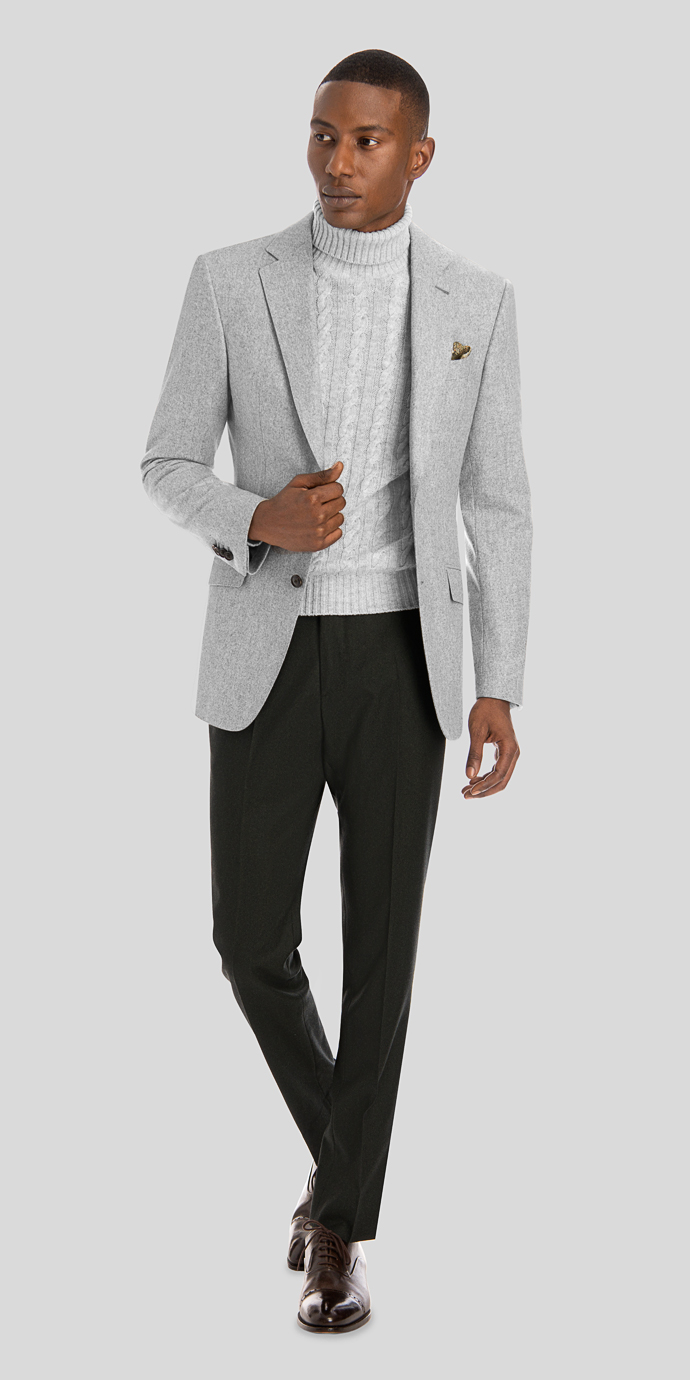 #2: Navy Twill Blazer
100% wool, navy, and solid, this navy twill blazer is everything you want a classy blazer to look like and much more. The detailed manufacturing process and expert tailoring ooze sophistication, and it's the perfect way to turn heads when the dress code calls for formal smart casual. 

---
The Trousers
Your choice of pants is much more diverse for smart casual, and anything from chinos to linen to seersucker or corduroy pants will do. The only rule here is to steer clear of items on the extreme ends of the clothing spectrum, such as pleated pants (too formal) or jeans (too casual). 
If you'd like to know more about an understated element of pants style, you'd, no doubt, find our guide to dress pant breaks interesting. 
Examples 
Here are two dress pants we'd recommend adding to your wardrobe:
#1: Navy Linen Dress Pants
This navy linen dress pants promise to keep you cool all summer while ensuring you do not have to think too much about what to pair them with. What's more? The navy color is the default for men's professional wear. So, it'll seamlessly fit into just about any office setting.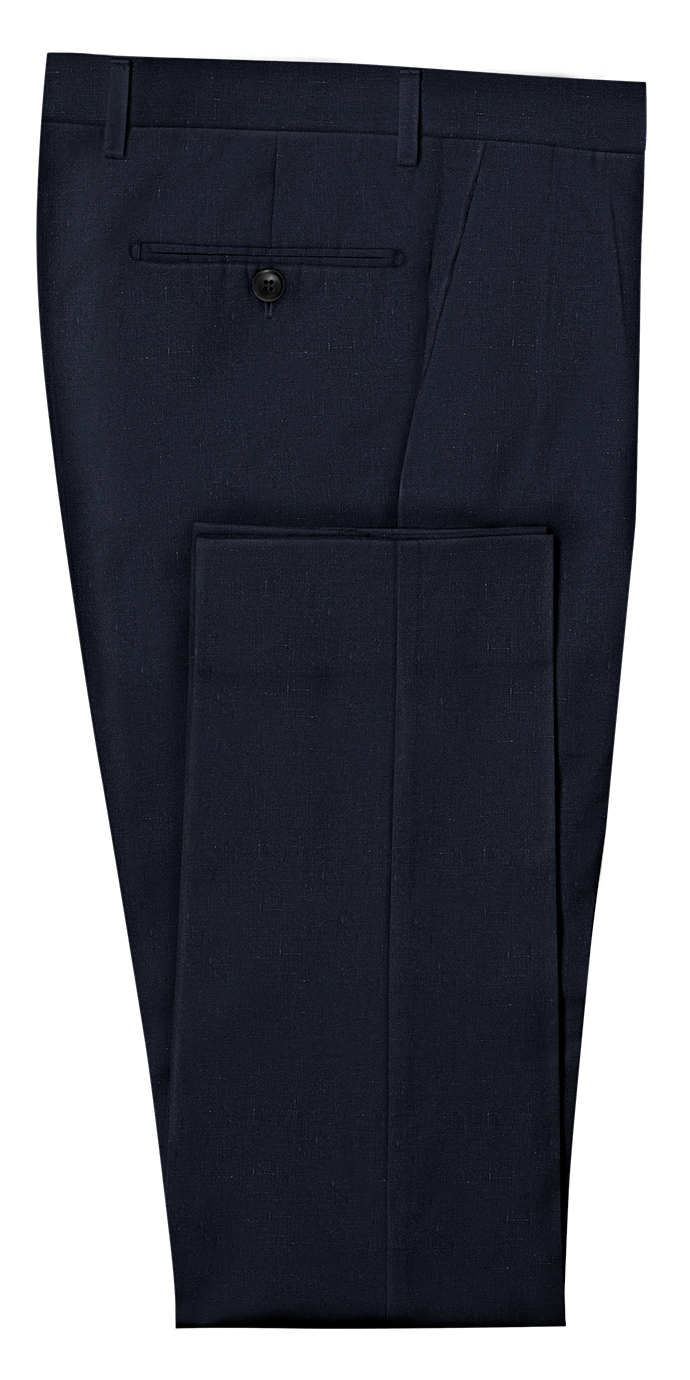 #2: Traveler Pants in Light Gray 
Looking for a pair of pants that guarantee flexibility and comfort on the go? This traveler pants in light gray are for you. Made from 100% wool by Delfino, the pants are resistant to wrinkles and stains, and it works well with many shirts or blazer colors. 

---
The Shoes
Perhaps, the only rule here is to avoid formal dress shoes, especially black oxfords (and other black shoes generally), because they're too formal. As such, leather shoes in various shades of brown are acceptable, and you could even go for unconventional footwear colors like off-white, green, or blue as long as they match your other pieces. 
Loafers, spectators, monk straps, boat shoes, Chelsea boots, and all the other shoes you'd normally think twice before wearing to the office all work for smart casual. However, the line is blurrier when it comes to sneakers. We feel they're too casual here, but many leather sneakers would easily complement your outfit.
---
The Oxford Button-Down Shirt
Oxford shirts were traditionally regarded as casual clothing, but they've managed to find their way to the office. Thus, they represent the perfect blend of smart and casual that the smart casual dress code aims to achieve.
This article on how oxford shirts moved into the office shows the different ways you can wear your oxford shirt for business and casual outings. 
Examples
Below are two Oxford button-down shirts you won't regret adding to your wardrobe:
#1: White Oxford Dress Shirt 
Our white oxford cloth dress shirt is perfect for showing up formally in casual clothing. It's suitable for casual office days and other relaxed, professional events, and the material is heavy enough to protect you from the cold while remaining breathable for the summer. 
#2: Blue Oxford Dress Shirt
This blue oxford dress shirt has all the qualities of its white counterpart. However, the color is slightly less formal, making it even more suitable for casual events. 
---
The Chinos 
Chinos are well-known for their versatility and fit well into almost any smart-casual ensemble. You can pair it with a blazer or sports coat, which also works well with a dress shirt or polo shirt. Importantly, chinos can be worn with just about any shoe, as long as they're not too formal or casual. 
Examples
Here are two pairs of Chinos you should consider adding to your wardrobe:
#1: Khaki Chino Pants
These custom khaki chino pants are an excellent option whenever you want your suit pants to take a break. It's made from 100% cotton, ensuring you feel less of the spring and summer heat. Plus, the khaki color is neutral enough to pair well with various shirts or polo colors.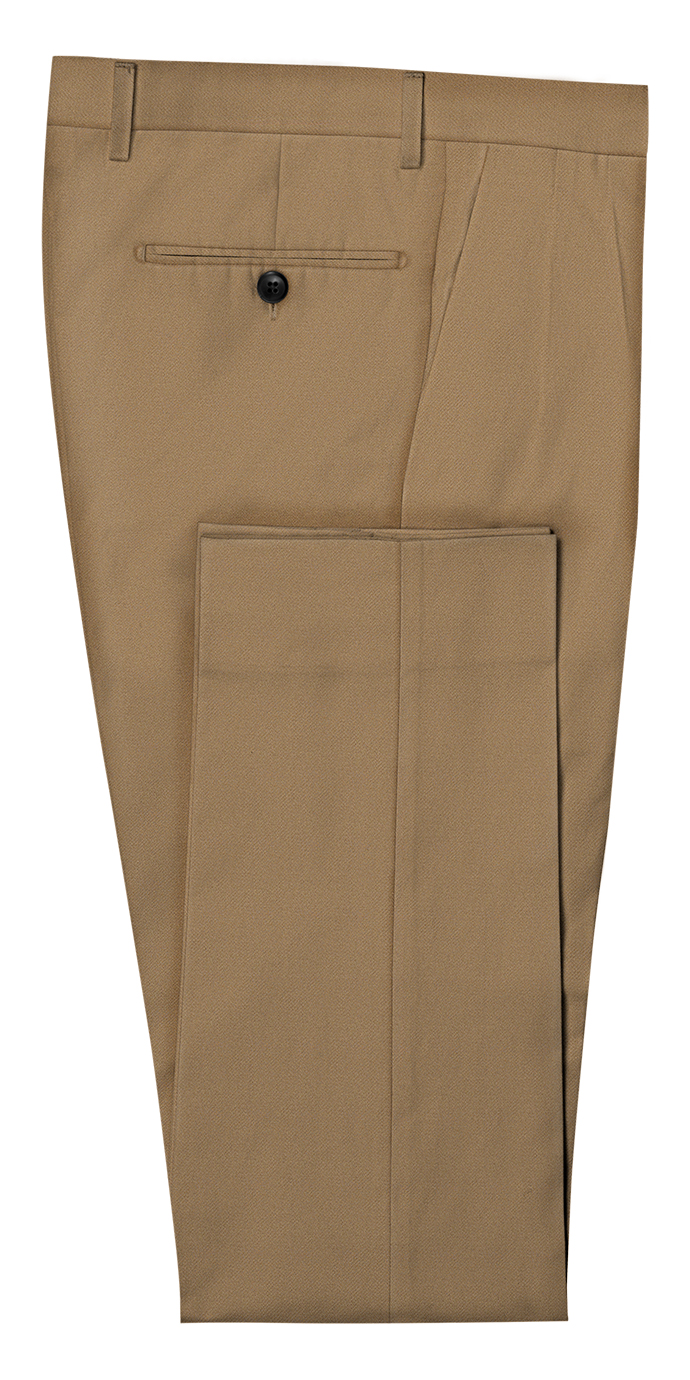 #2: Black Chino Pants 
Our black chino pants can help you make a statement whenever you're looking to rock the smart casual look. Made from cotton and spandex blend, the chino guarantees your comfort all season, and it's custom-made to ensure a perfect fit.  
---
Frequently Asked Questions
Here are some frequently asked questions about professional business attire for men. Perhaps you have a question that's not addressed here or anywhere else in the guide; feel free to ask in the comments or send an email. 
Can I wear jeans in smart casual? 
Jeans are essentially casual attire. However, due to the diverse nature of the smart casual dress code, jeans may be acceptable if the occasion calls for informal smart casual. It's also worthy of note that the jeans should be dark-wash, tailored, and distress-free. Furthermore, it would help if you paired your jeans with more formal clothing items like a conservative blazer and button-down shirt to ensure you do not dress down. 
If you'd like to know more about when and how to wear your jeans, we answered the 'are jeans business casual' question here. 
How should I dress for a smart interview? 
The default dress code for most corporate interviews is business professional, that is, a dark-colored suit, matching dress pants, white or light blue shirt, conservative silk tie, and formal dress shoes. But if smart casual were specified, we'd recommend a dark-colored blazer, neat chinos, collared shirt, and leather shoes.
What makes men's smart casual style smart?
Your choice of the clothing item is what makes the smart casual style smart. The dress code encourages you to avoid clothes on the extreme sides of formal and informal and pick elegant and sophisticated items without being flamboyant. 
What should I wear to a smart casual wedding? 
If you're honoring a casual wedding invite, the minimum should be a collared dress shirt, dress pants, or neat chinos and dress shoes. However, we recommend adding a blazer (without the tie) so you don't appear underdressed.  
More Style Tips For Men 
Have you been looking for great style guides to unleash your inner fashionista? Here are a few suggestions you'll enjoy: 
In Conclusion
The smart casual dress code offers borderless flexibility, allowing you to create a sophisticated look by combining casual and formal pieces of clothing. Despite the ample freedom, you still need to define your sense of style and combine the right items if you want to make a statement. Whenever you're in doubt, it's always better to stay on the formal side to ensure you don't appear underdressed. 
---
Like What You See? There's More.
We'll send you style advice and intel for the modern man.
---