5 Navy Suit Combinations For The Work Week
Published on August 2, 2019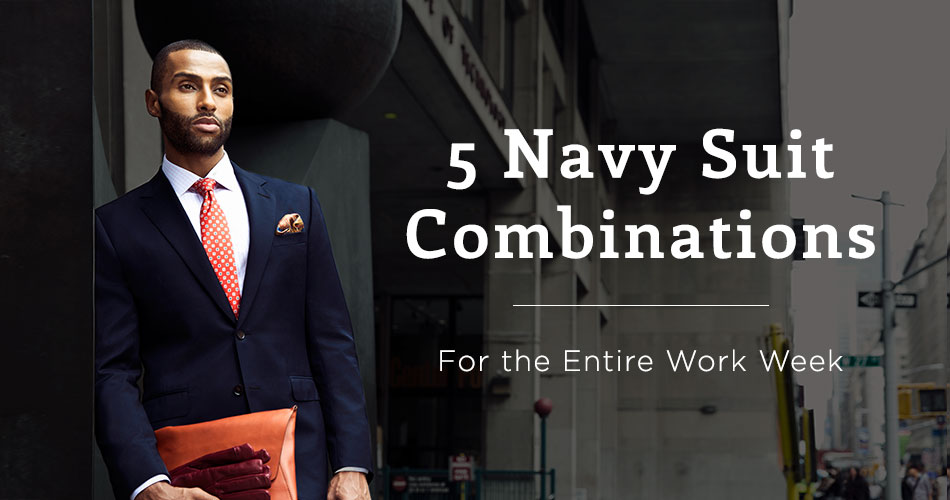 Navy Suit Combinations — Monday Through Friday
A perfectly-fitted navy blue suit is a closet staple. Handsome, sleek, and with a subtle bit of color that's still conveniently pairable with your go-to shirt and tie combinations. A navy suit should be on the list of the first suits you buy for one reason: it's supreme versatility. Quality suits are an investment, and a masterclass suit collection takes time to build. So if you only have the budget for one suit to start, you want one that you can wear Monday to Friday with a variety of pairings to make sure you look fresh every day. 
For those of you that doubt the versatility of a lone navy suit, read on and give us a chance to change your mind. The trick, of course, is to avoid the same dress shirt and tie each day. A decent dress shirt and tie collection is much easier on the wallet to build out and adds to the combination of looks you can pull off with your suits. And the right array of accent colors and suit accessories can draw attention and not only alter the overall appearance of your look but allow you to put a defining new spin on the same foundation for each day of the week.
So here's a quick tour of what you can pull off in a work week: one navy suit, five days in a row. 
---
#1. Monday: The Standard Bearer
We'll start the week off with one of the most timeless navy blue suit combinations: your navy suit, a crisp white dress shirt, a burgundy tie, and a sleek white pocket square.
This easy combination is perfect for the groggy Monday mornings where simplicity is a necessity and coffee is mandatory. These classically complementary colors will work to perfection for you every single time. Add a polished pair of brown dress shoes for a well-grounded, formal spin on your navy suit.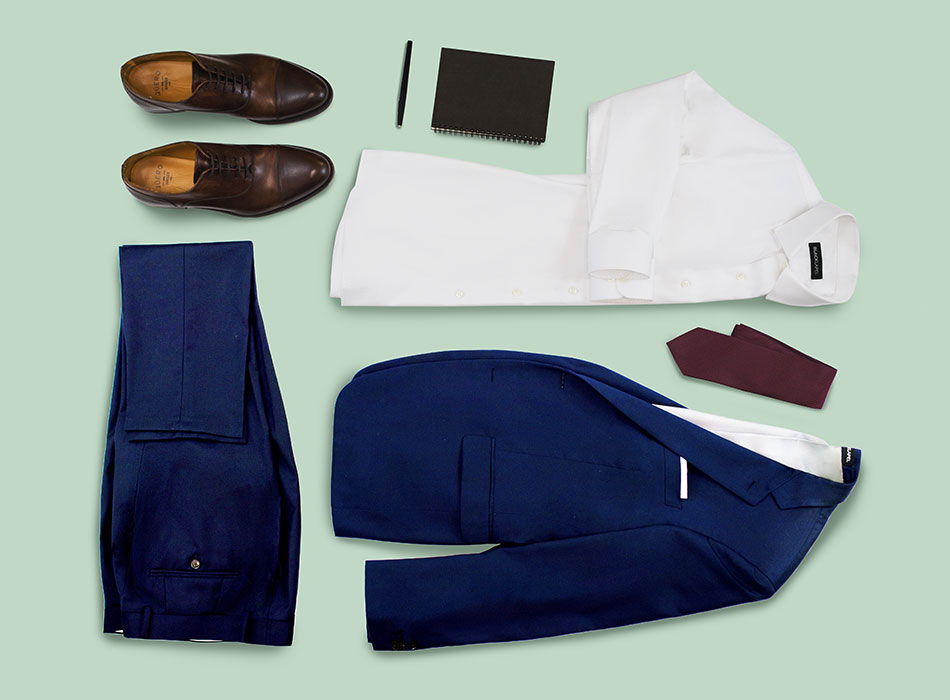 The Black Lapel Look:
---
#2. Tuesday: The Smooth Operator
Monday was too easy. For those still harboring doubts about the versatility of the navy suit, this next look will show you just how different you can look on day two. 
We start Tuesday with our navy suit and add shadowy accent layers with a light gray dress shirt, a brown tie, and a dark gray pocket square to round it out. The depth of the twilight hues from the darker colors is understated and confident, a duo of vibes that will carry you seamlessly from the office to that important client dinner. Finish it off with a pair of black dress shoes and a 007-esque poker face.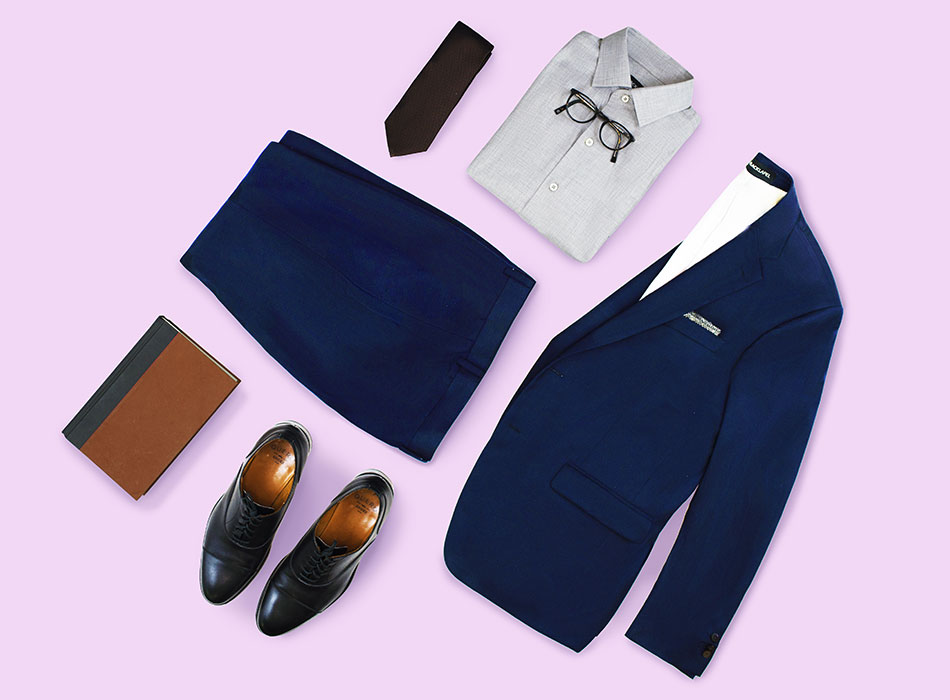 The Black Lapel Look:
---
#3. Wednesday: The Statement Maker
Happy hump day to you and your navy blue suit. You're halfway through your week, so what better way to celebrate than this week's most colorful blue suit combination? Liven up your look and the mood of those around you with a pink check shirt, blue check tie, and brown dress shoes — plus your trusty navy suit, of course.
This combination utilizes your navy foundation with a blend of colors that are both playful and well-planned, giving you a bright, unique option that is differentiated from your Monday and Tuesday looks. Seal the deal with a floral pocket square and a spring in your step.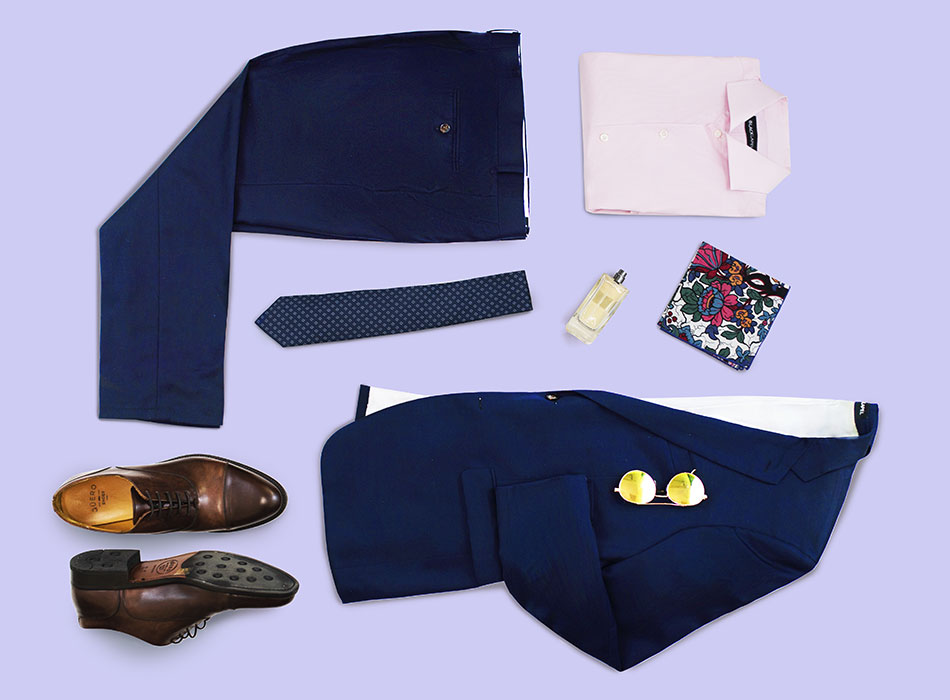 The Black Lapel Look:
---
#4. Thursday: The Modern Classic
Think of Thursday as Monday's cooler more adventurous brother: a love of the classics runs in this family, but where his brother spends his days in the boardroom, Thursday rides through his fledgling startup on a segway and hosts ideation-sessions around a ping-pong table.
Today we pay homage to the classic blue suit combinations by layering a bit more color and stylish fun, starting with a blue pencil stripe dress shirt, a burnt orange knit tie, and a soft white pocket square with a navy accent. The subtle addition of colors, patterns, and textures refresh the suit, and the extra emphasis on detail won't go unnoticed. Tie it all in with a pair of brown dress boots and put a creative foot forward this Thursday.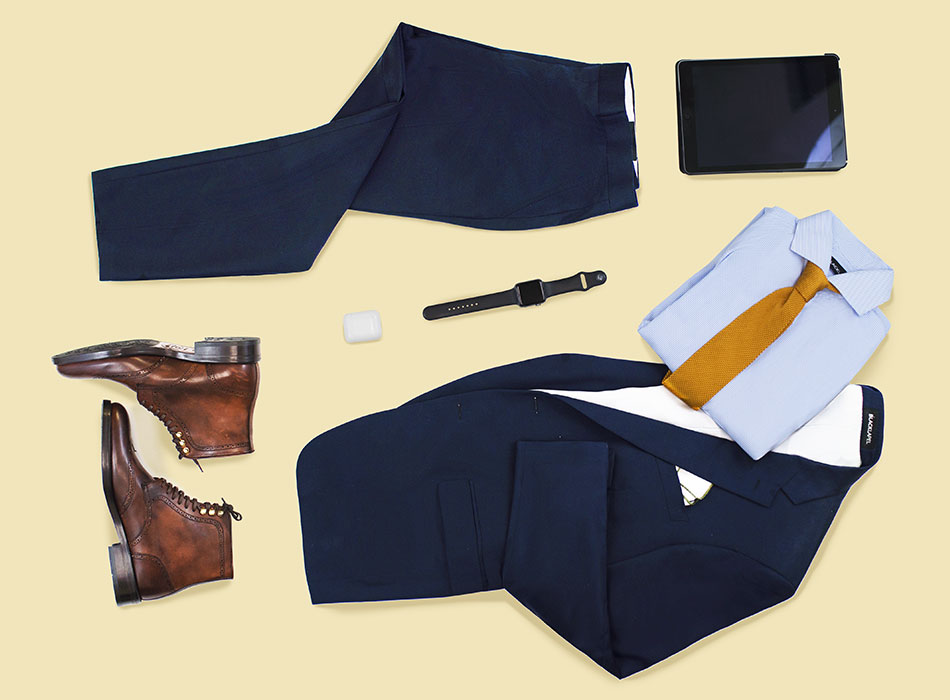 The Black Lapel Look:
---
#5. The TGI…Navy
Finally, the weekend is around the corner and the universal day of employee happiness is here. It's Friday, and your boss is cool, so let's close out the week in a relaxed way and lose the navy pants. No, we're not saying you should show up to work in your boxer briefs — your cool boss will likely still fire you.
Instead, it's time to bring in a ringer. One of the reasons we love a navy suit so much, and why we always suggest it be your first is because the jacket and pants are just as strong when split up and worn with other contrasting colors. So lose the tie, keep the navy blazer, don a pair of khaki dress pants or chinos, and get ready to hit happy hour hard. A light blue oxford dress shirt and a khaki and blue floral pocket square bring the look together with panache. Round it all off with a pair of light brown monk straps and you'll be stepping into your weekend in style.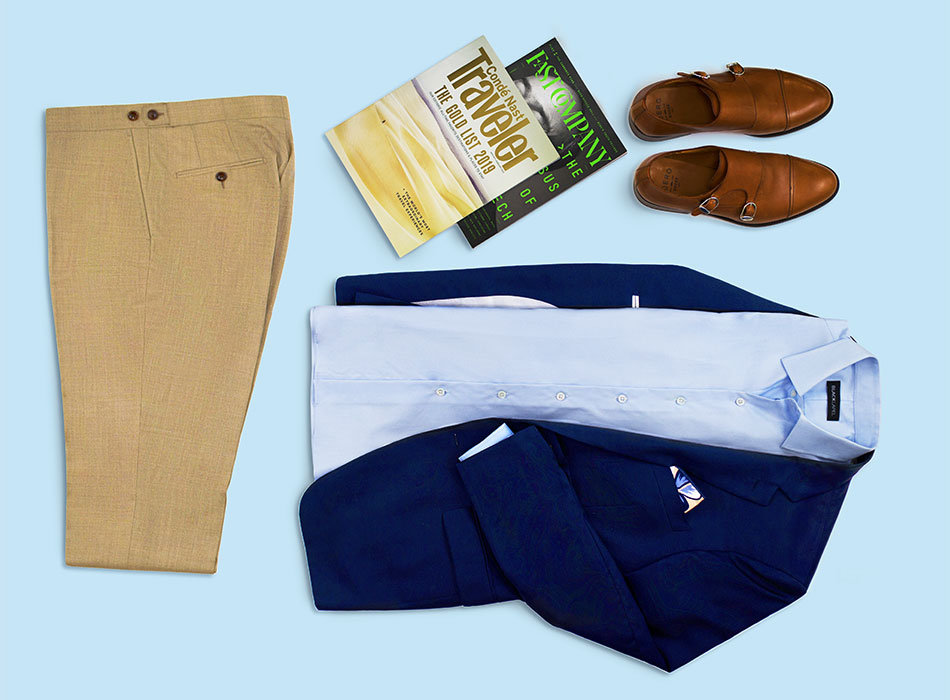 The Black Lapel Look:
Enjoy Your New Navy Suit Combinations!
If you didn't believe a navy suit could get so much wear, we hope we made a believer out of you. And while these pairings can get you through another week, there are tons of other navy blue suit combinations out there to get you through the other fifty-one. So now that we've helped you get the wheels turning, see what other mixing and matching you can come up with on your own! If you create some killer combos, make sure to leave your styling tips in the comments below!
---
---
Like What You See? There's More.
We'll send you style advice and intel for the modern man.
---