Keep These Essential Dress Shirts In Your Rotation All Summer
Published on July 3, 2014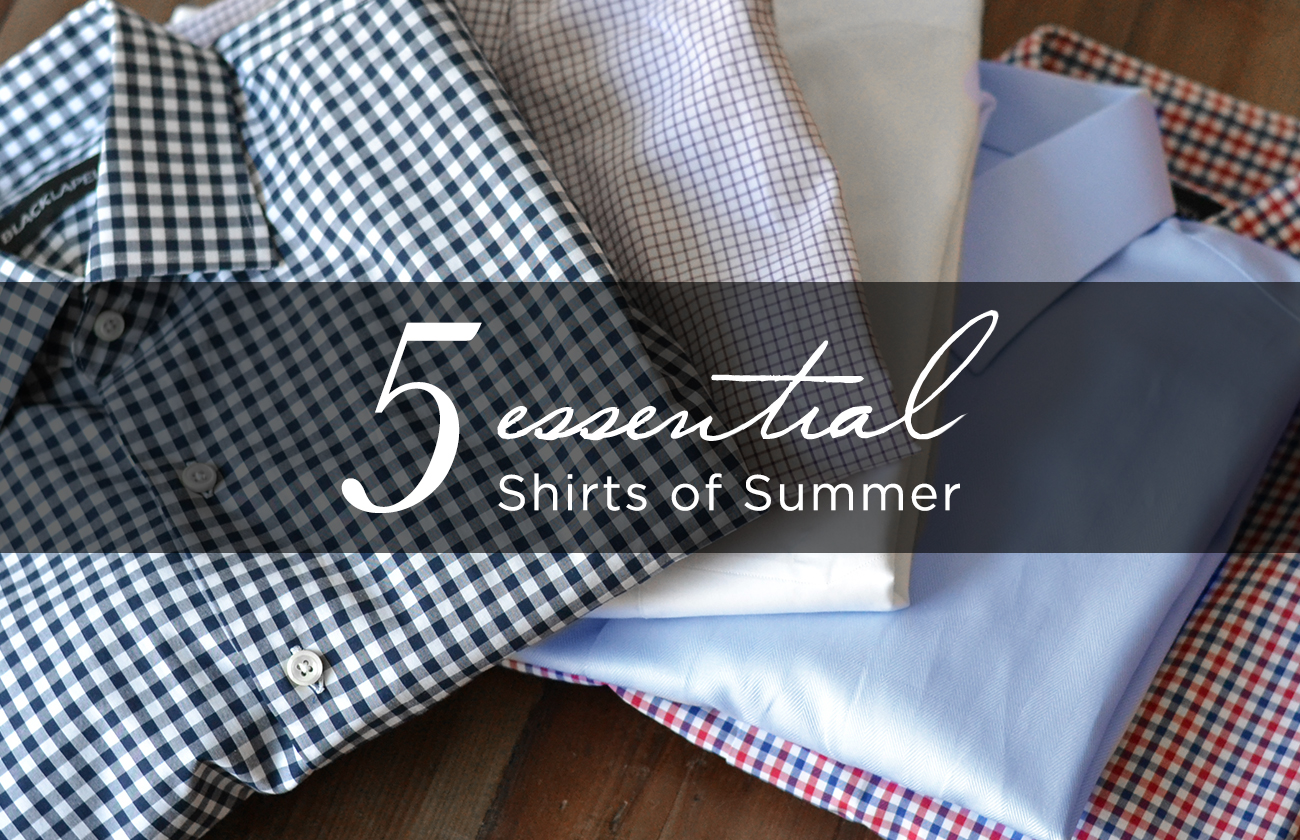 It's hot. Like, midday in the Sahara hot. Summer just got started and you're already burning up at the office. It could be your shirts that are making you miserable. When it's hot, men's shirts, perhaps more than any other item we wear, trap heat and keep us feeling steamy. Why? Men's dress shirts stay wrapped around the pulse points at your neck and wrists and can work like insulation during the summer. That's why we suggest adjusting your style to the season with a collection of summer dress shirts.
You can shelve the heavy oxfords and leave the darker colors in your closet. We're talking summer-appropriate dress shirts here. Nothing too heavy. Nothing too casual, just five essential shirts to get you through even the hottest of workweeks.
We're not saying to trash all of your dress shirts and start over (though the occasional wardrobe reboot can be a good thing). We are suggesting that you work some lightweight shirts into your wardrobe and we've got five good examples here.
---
---

Tame Manic Monday

With a White Solid Broadcloth Custom Dress Shirt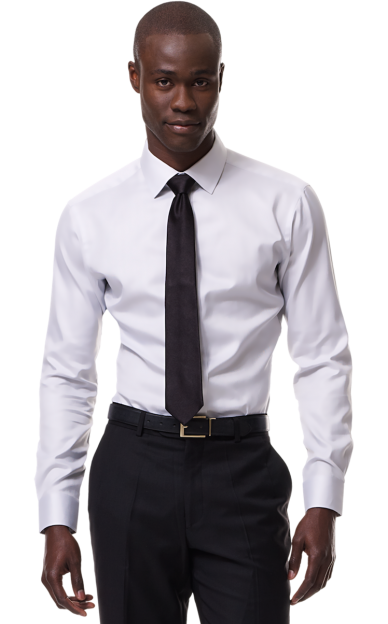 A man can never have too many solid white shirts. Some, are heavy and more appropriate for cooler weather but this one is light enough to wear even through the dog days of summer. In fact, if you just wore a rotation of these all summer long you wouldn't get any guff from us.
Pair it with…
Whatever you damn well please. This shirt is a true workhorse. We've matched it up with a black custom suit and a solid black tie for a super simple minimalist look, but we challenge you to find a suit that doesn't work with this shirt. It can't be done.
---

Tackle Tuesday

In a Purple Grid Check Broadcloth Custom Dress Shirt
The beauty of a grid check shirt is that it can look like a solid shirt from afar and a patterned shirt up close. This pattern isn't loud enough to be seen from across the room (instead it'll look like a subtle lavender), but up close the pattern adds a layer of complexity to your look that will have people thinking, "There's more to this guy than meets the eye."
Pair it with…
A solid-mid gray suit, like the Cool Gray Custom Suit, that's got year-round appeal and is superb for summer.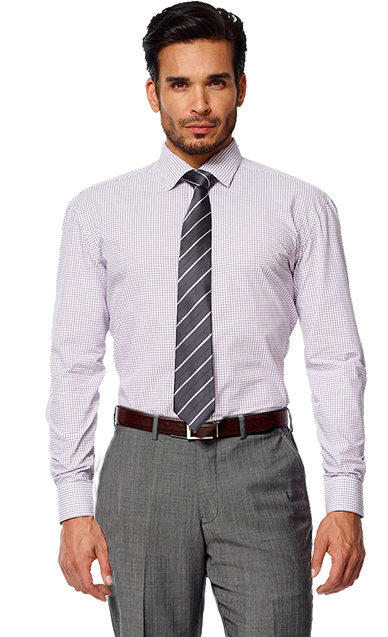 ---
Get Over the Hump

In a Navy Gingham Broadcloth Custom Dress Shirt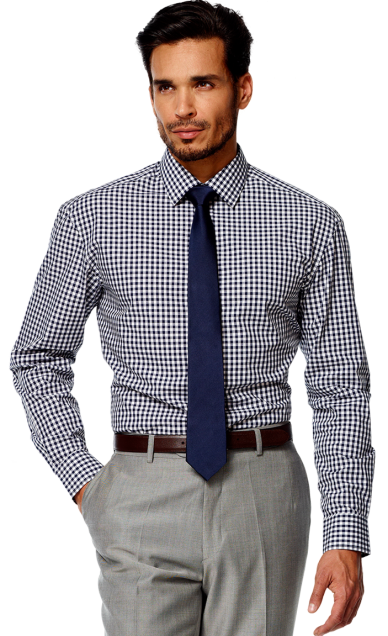 This high contrast gingham is a smart way to bring visual interest to an otherwise low-key outfit. It works just as well with a navy suit as it does with jeans but we love it with light colors in the summer. Bonus: this shirt works weekends. Just roll up the sleeves and wear it with shorts for a laid back backyard barbecue look.
Pair it with…
A light suit, like the Light Gray Custom Suit, to really play up the contrast in the shirt.
---
Thirsty Thursday

Means a Blue Solid Herringbone Weave Custom Dress Shirt
Itching for the weekend? A non-white shirt smooths the style transition from office hours to happy hour and looks great when the sun goes down. Don't worry, you'll still look sharp all day in this understated herringbone.
Pair it with…
A solid or subtly patterned light suit like the Sullivan Gray Pinstripe Custom Suit.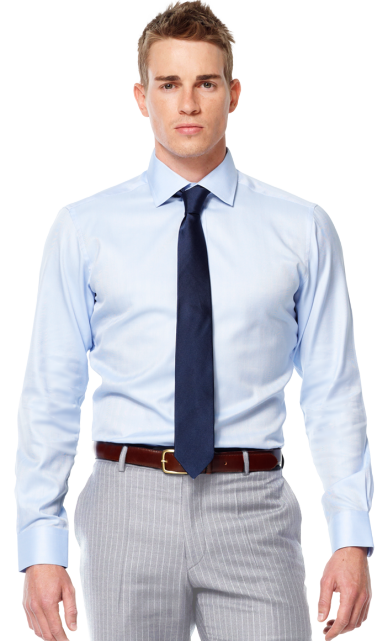 ---
TGIFF

(This Gingham Is For Friday)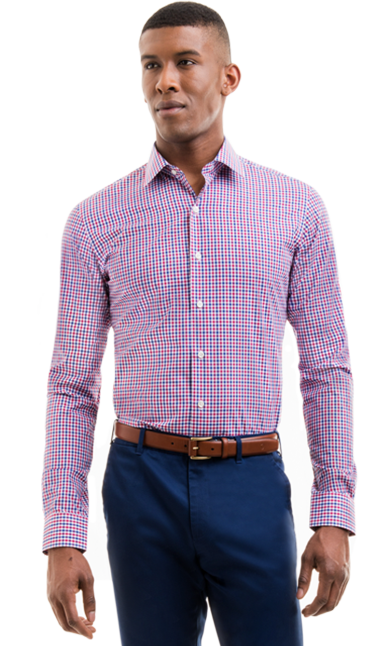 Come casual Friday, the tie gets the day off and your shirt gets the spotlight between the lapels. Don't waste this opportunity to step up the punch in both pattern and color. Now is the time to fire up this All-American gingham.
Pair it with…
A pair of chinos in a complementary color, like the blue you see here, and a neutral khaki sport jacket, like the Khaki Linen Blend Custom Blazer, to balance out the strong colors in this shirt.
---
Stick with these essentials if you want to avoid getting too hot under the collar this summer. These shirts will keep you looking so good, there will be no doubt what they mean when the ladies say you look hot.
---
Like What You See? There's More.
We'll send you style advice and intel for the modern man.
---